Hosa's Family Fighs Dirty Over Sale of Banana Island Property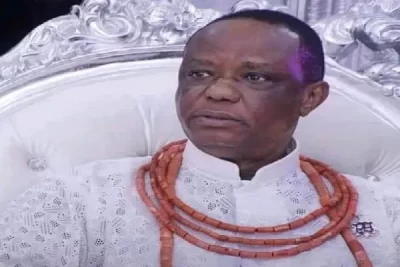 The last has obviously not been heard about the crisis that has befallen the family of late Captain Idahosa Wells Okunbo over the sale of some of his prized property. We had exclusively reported that barely two weeks after he passed on, the issue of how his numerous assets scattered across the country would be managed became a dilemma.
A decision to put up his Abuja based luxury multi-billion-naira hotel, The Wells Carlton Hotel and Apartments, for sale came to the front burner. Some close relatives of the deceased, including his hitherto estranged second wife, Nosa, whom he parted ways with in very controversial circumstances and reconciled with before his passing, had unanimously decided to sell the hotel.
While the family was quick to debunk news of the sale, a close family source told us that the late Okunbo had, indeed, planned to dispose of the hotel and he mandated another member of his family to look for investors who would take over the hotel. This close relative had succeeded in getting investors, but what they were supposedly offering for the hotel was not in tandem with what the late businessman had wanted. As a result, he decided to suspend the sale.
Unfortunately, he did not succeed in selling the hotel before he died. Just when everyone thought that the matter had been resolved amicably within the family and an agreement reached on how to properly manage his assets, some members of the family are already eyeing another multi-billion-naira investment with plans to sell it off to the highest bidder.
The building, a 20-bedroom mansion located in Banana Island, Ikoyi, Lagos is now a subject of dispute. But Nosa, who has since reverted to her maiden name, has warned the unsuspecting public not to purchase the building, which may be offered as a distress sale.
To this end, a caveat was promptly lodged at the probate Registry High Court of Lagos State, Ikeja Division for prohibition of grant of probate in respect of the building. Findings by us reveal that one of the late businessman's children is allegedly the one who hatched the plan to sell the building. And, in an ironic twist of fate, Nosa who many thought would be the one to broach the idea to sell the building, considering her extravagant lifestyle, which she may want to fund with proceeds from the sale of the house, is the one putting her foot down to prevent the sale.
If everything go as planned, the mansion as at the time of writing this article is getting to the final discussion on how much it would be sold as buyers are already showing interest in buying the property.
Hosa Okunbo died at the age of 63 on August 8, 2021, in a London hospital after a one-year battle with pancreatic cancer.