Hours after Tinubu Met With Lawmakers-elect, Yari Gathers Key Players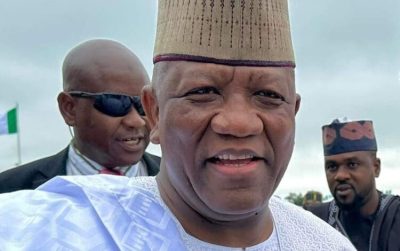 Hours after President Bola Tinubu publicly threw his support behind Senator Godswill Akpabio for the 10th Senate Presidency, reports have emerged of a counter meeting organised by three Senators-elect: Abdul'aziz Yari, Jimoh Ibrahim, and Elisha Abbo.

POLITICS NIGERIA reports that this gathering, scheduled for today, June 9, at 9pm at Fraiser Suites in Abuja, aims to challenge Tinubu's endorsement.

This newspaper learnt that the notice for the meeting, signed by Abbo has raised eyebrows and drawn attention.

Abbo and Jimoh Ibrahim are currently at the forefront of a campaign to install former Zamfara State Governor Abdul'aziz Yari as the new Senate President, going against the wishes of President Tinubu and the All Progressives Congress (APC).

During a recent gathering in Abuja, Tinubu restated his position, along with that of the ruling APC, regarding the selection of Senators Godswill Akpabio and Jibrin Barau for the crucial leadership positions of the 10th Senate President and Deputy Senate President respectively.

In his address to the lawmakers-elect from both the Senate and the House of Representatives, the President extended his congratulations and expressed his administration's eagerness to collaborate with the 10th National Assembly in the best interest of the nation.

Aside from Abdul'Aziz Yari, Jimoh Ibrahim, and Elisha Abbo, who were absent, the remaining APC legislators-elect from both chambers gathered at the Presidential Villa to meet with the President and Commander-in-Chief to discuss the Nigerian project.

Tinubu reportedly reiterated to the lawmakers-elect that the party's stance on the selection of presiding officers in the Senate and the House of Representatives remains unchanged. He emphasised the importance of maintaining national unity and equity, highlighting the religious diversity of the country and advocating for a Christian citizen to hold the position of Senate President.

However, Abbo vehemently argued that lawmakers should be free to independently choose their leaders without interference from the President or the ruling party.

According to their calculations, this group proposes Abdul'aziz Yari, the former governor of Zamfara State, for the position of Senate President, with Jimoh Ibrahim from Ondo State as his deputy.