How floating LNG came back in vogue to figure on the future energy horizon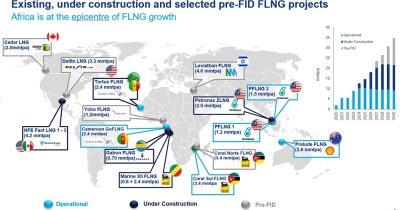 Lower costs and increased demand for quick-to-market LNG supply has made floating LNG an attractive proposition again, explains Fraser Carson, Senior Research Analyst, Global LNG Wood Mackenzie.
After a productive 2022 when 8.5 million tonnes per annum (mmtpa) of FLNG capacity was sanctioned, it has become clear that after several years in the project doldrums, investor interest in floating liquified natural gas (FLNG) is back.
Data from Wood Mackenzie's recent Global FLNG overview provides a clear indication that the economic and geo-political conditions for the secure, simple and fast-to-market solution that FLNG provides are now prevalent across the global gas and LNG sector. There is currently 12.5 mmtpa of FLNG under construction and, by 2026, almost 25 mmtpa of floating supply will be operational.
And the story isn't finished yet; international oil companies (IOCs), upstream producers and midstream specialists are all moving projects towards final investment decisions that could push sanctioned capacity even higher within the next 18 months.
However, while the attractions of FLNG are clear, so are the challenges. The requirement of gas processing facilities and difficult metocean conditions adds complexity, and with complexity comes increased costs. This means that FLNG is not the solution to every offshore natural gas asset.
Lessons have been learned
FLNG has a chequered history. Several projects suffered from considerable delays and a cost overruns during construction and have been plagued by poor reliability when operational. Other facilities have been forced to move locations due to feedgas challenges. All of these factors combine to make investors cautious, but the situation is changing.
Reliability has improved
After a stuttering start, FLNG is proving to be a reliable commercialisation option. The utilisation of FLNG facilities in Cameroon and Malaysia have been strong over the last year, with the units producing at close to or above 100% capacity.
Construction schedules are being met
Coral FLNG, which shipped its first cargo in November 2022, was successfully delivered on time and on budget. Similarly, the under-construction Gimi FLNG has experienced minimal delays to the FLNG vessel and is expected on site in offshore Mauritania/Senegal later this year.
FLNG is cost competitive
The generally lower capital costs associated with FLNG are attractive to investors. With standardised designs, indicative costs for the FLNG unit can be derived. Golar's conversion designs, such as the MkII Gimi for Tortue Phase 1, can be as low as US$700/tonne, while SHI's and WOM's newbuild orders for ZLNG and Marine XII are both around $750/tonne. This compares favourably to onshore LNG plant capex, which is currently around $900/tonne for US Gulf Coast projects.
Increased accessibility
The initial challenging experiences of FLNG project development have generated strong demand for a simplified approach. Shipbuilders like Wison and Samsung now offer standardised newbuild FLNG designs, available for a range of production and storage capacities. Golar offers three standard FLNG designs; two conversions and one newbuild option. New Fortress Energy is developing liquefaction modules for its Fast LNG designs with a fixed capacity that can be scaled up.
Where will FLNG growth come from?
Africa has been at the epicentre of FLNG momentum. In recent years, resource-rich markets have faced challenges developing gas for export, including from armed insurgency and infrastructure sabotage. FLNG is removed from these above-ground risks. It also provides African producers with an alternative to supplying the domestic market.
Within the last year, experienced FLNG developers Eni and Perenco sanctioned a two-phase floating development in Congo and a barge-based project in Gabon, respectively. But new entrants, such as UTM offshore and NNPC, are also considering FLNG to develop Nigeria's stranded offshore volumes. In East Africa, FLNG continues to be linked as a potential development option for the Rovuma partners.
Outside of Africa, NewMed Energy and Chevron have confirmed Leviathan FLNG's design concept and are targeting an FID on the Israeli project in 2024. Recent large gas discoveries by the majors in Cyprus could also lend themselves to FLNG. In North America, Delfin LNG and Cedar LNG have both made considerable commercial progress over the last 12 months, while New Fortress Energy has now sanctioned three of its Fast LNG fixed platform units.
•Written By Energy Connects