I Was Told Some Oyo Monarchs Always Disrespected Governor Makinde; That Was Why I Spoke Against It – Obasanjo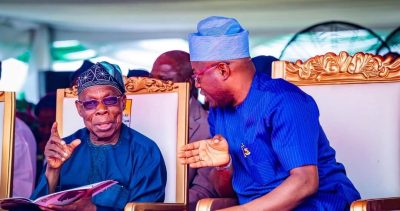 Former President, Olusegun Obasanjo, has stated that he was told that the traditional rulers he encountered in Oyo State had always "displayed disrespect for their governor" – Seyi Makinde – adding that this action prompted him to speak to them about it.
Obasanjo noted that he never meant to respect the Yoruba culture, adding that there is however a constitution which is more binding than culture.
The former president has lately been under scrutiny and received backlashes for "disrespecting" Yoruba traditional rulers after ordering them to stand up for the Oyo State governor, Seyi Makinde.
Speaking in Yoruba in a viral video, Obasanjo had ordered the seated traditional leaders to rise and greet the state Governor Makinde. The monarchs rose promptly and then sat as commanded.
Obasanjo in an interview with PREMIUM TIMES, said he acted the way he did because the monarchs displayed utter disrespect for the state governor.
"I arrived the event venue with the governor," the former president said from South Africa where he was attending the burial of politician Mangosuthu Buthelezi, who died on 9 September at 95.
"As we arrived, every other person at the venue rose, but they (the monarchs) remained seated. I was surprised because I considered that a breach of protocol and disrespect for the governor.
"It later became the turn of the governor to speak. As he rose, every other person at the venue, including me, stood up as demanded by protocol and in respect for the governor and his office. Again, the Obas refused to rise. They all remained seated.
"I then asked people around whether that was the practice in Oyo State. I was told the Obas have always displayed disrespect for their governor. I wondered where they got that from and then decided to speak to them about it.
"As far as I am concerned, there is constitution and there is culture. By our constitution, the governor is the leader of a state. Everyone must respect him no matter his or her status or age. He deserves respect no matter how young he is and protocols must be observed."