I wept when told to inherit five wives of predecessor – Oba Aladesuru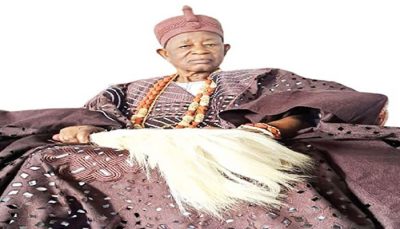 Onigede of Igede Ekiti, Oba James Aladesuru II, who turned 90 recently, shares his 64-year experience on the throne with ABIODUN NEJO
Turning 90 is no mean feat. Did you ever think you would join the nonagenarian 'club'?
When I was installed as the Onigede of Igede Ekiti on June 26, 1959, I was just human. So, like any human being, I did not know whether I would die early or live long. I was a very young person then, but it is the grace of God.
Does longevity run in your family?
My parents lived very long. I do not know how old my father was before he died, but people said he spent a long time on the throne. My mother was about 105 years old when she died.
It was learnt that you farm at your age. How do you manage to engage in such an activity that requires physical strength?
Going to the farm daily is what I have been doing since my childhood days. My father died when I was eight years old and I lived with my brother. I used to go to the farm with my brother then. In 1945, I left my brother to live with the then Chief Elejoka Ogundana Ireakari. When I was there, we used to go to the farm on a daily basis. I even had to go to the farm after returning from school.
What activities do you engage in on the farm at 90?
I cannot do anything; I just go round the farm to supervise and fulfil all righteousness. I have oil palm, yams, fruits, and others. I have those who work for me on the farm.
What do you think people who desire to live long should do?
Let me tell you about myself; maybe it will serve as a lesson or a piece of advice. I do not worry about anything. I am active; there is no dull moment and I am hardworking. I am disciplined when it comes to eating. I do not eat processed food. I eat only home-grown food, mostly food from my farm. I take juice processed from fruits on my farm. I do not drink alcohol. As a child, I lived with a palm wine tapper, I carried palm wine, but I never tasted it. I exercise daily, I trek, I go to the farm, walk about on the farm. That is why I am active.
Again, this generation sees love making as everything and people engage in indiscriminate love making, but growing up, I dreaded relationships with the opposite sex. In fact, I became an oba before I was taught how to make love (laughs). I will advise my people to always try to see that we can produce what we eat. Producing our food means that we can go to the farm. Whether you are an artisan, teacher, or public servant, try to engage in farming.
Apart from being a form of exercise, engaging in farming will fetch us good food. With this, you will not spend all your money on food. You will feed your children and have money to train them. Do not be lazy, be active. Engage in activities. Farming activities made me strong.
Are there other things you cannot do at your age?
I used to be a football player before I ascended the throne, but I do not have the opportunity to do that now. I used to drive my cars, but only a few days ago, I told my drivers that I would not do it again. Also, I cannot marry a new wife because I have outgrown that, but I am still strong (laughs).
You received praise from different dignitaries, including the governor, Biodun Oyebanji, to mark your 64 years on the throne. How did that make you feel?
I was very happy. So far in my lifetime, I can say that it was my happiest moment. I saw many people; we ate, drank, listened to music and danced. I danced the way I never danced before.
What did the governor tell you that day?
He told me that he was very happy for me. I had a project, a N10m James Adelusi Aladesuru chalet, which I wanted to do for Araromi Baptist Church, Igede Ekiti, to appreciate God for my 90 years on earth. I said there that it was a project very dear to my heart. I donated some money and called for support, but the governor, who said he was celebrating with me as his father, said he would take up the project. He said that he wanted me to inaugurate the chalet in December this year. Already as I speak with you, work has started there. I am very happy. The governor also said that he understood the needs and requests of our town and that he would come to our aid beyond our expectations.
I was happy to see him. I greeted him, and in my address, I extolled his virtues. I recalled his activities during the struggle for the creation of Ekiti State. He was a young man then on the Committee for the Creation of Ekiti State, which I was a member of. I appreciated him for his love for community development and the growth of our state. My observation of him now as a governor is that he is a very good person, who is not self-seeking. He is a very good governor. God has always blessed Ekiti with good governors, but Oyebanji is outstanding and he has deployed his experience as a university teacher for the good of the state.
What will you say has changed positively in Igede Ekiti in the last 64 years under you as Kabiyesi?
Many things have changed positively. Let me start with education. There was only one secondary school, Ekiti Baptist High School when I ascended the throne, but now, there are over seven secondary schools, and there is a school of health technology owned by the Catholic mission. God has helped us. There was only one university graduate before I became Oba, but today we cannot count the number of graduates we have.
It was about two months after my installation that I went to church. After that day's church service, I was told that the Aramoko–Ado Ekiti Road which passed through Igede Ekiti would be constructed and work started immediately. That was the first road constructed at that time. Also, the Ilawe–Igede Road used to be a footpath. One could not even ride a bicycle on it. But today, it has been constructed. Again, through community effort, we constructed many roads in the town. All the roads that you see in Igede Ekiti today were not there before I became Oba. They were mere footpaths before I ascended the throne.
This town was central, the government created a tax/licensing office here, a dispensary, and others. We had electricity which was provided by the then-military governor of the defunct Western Region, General Adeyinka Adebayo, in 1970. Gen Adebayo provided water for us immediately after he got to the office. Also, there were a few houses in Igede then, but today, the kingdom has expanded in leaps and bounds.
With all the developments you have highlighted. Does your community have other needs?
We need industries and government presence. We need higher institution in the community. Well-meaning indigenes and Nigerians can stand in the gap so that Igede Ekiti can have life-transforming tertiary institutions. We also need vocational institutions where the youth can learn how to be self-sufficient and become employers of labour to tame the monster of joblessness.
We also call on the state government,  to consider continuing with the construction of the Ado–Aramoko Road which the former governor has done to Iyin Ekiti, although it is a federal road so that our town can benefit. We call on President Bola Tinubu to also consider the road. We are seeking the assistance of the Federal Government on the road as well. Also, we are craving the channelisation and dredging of the Elemi River. This will save the community from flooding, serve as tourism potential, and generate revenue for the government and employment opportunities for the people.
How did the town arrive at the name, Igede?
It has a story behind it. The man who founded this place, Ake, from Ile-Ife (Osun State), and his wife, Erindo, had 16 children. Among the children were Ogbese, Elemi, and Osun. After the death of their father, the children engaged in a fierce battle over who would be the leader. They fought one another with incantations (Ogede). The battle was so messy that some of them turned into trees, and rivers, while some disappeared or were swallowed by the ground. It was those who heard or witnessed what happened that described the place as where the siblings fought one another with incantations. That was how it gradually became the name of the settlement.
Why is the Elemi River important in the community?
As I said, Elemi is one of the children of Ake, the founder of this town. He turned into a river in the course of the dispute after his father's death. It is very important to Igede Ekiti. History has it that in those days, the river gave chickens to people to nurse and breed. Then, if you went there to fetch water, if he (Elemi) wanted to give you a chick, the chick would perch on your bowl, meaning the person had to take it home to nurse and breed it, So after the chicken would have laid eggs and have them hatched, the person would take all its chicks to the river. At the riverside, Elemi would take back some of the chicks; they would naturally go to the river while those it had released would stay in the person's bowl so that they could take them back home.
Has the river ever gone dry?
In March 1953, the water disappeared when Elemi was angry. I was aware of that because I was going to the riverside to play. Then, the women gathered and did the needful following which the river returned. We were all happy when they said it had returned and we went there to see the river flowing again.
The water from the Elemi River is wonderful. In 1987, there was a drought in June or July. When everything was tough, there was a suggestion that we should appease Elemi. We initially took a goat to the riverside to appease it, but Elemi was not appeased as the situation continued. It was in the process that an old Ifa priest came to the palace; the chiefs were with me here that day. He said that Ifa revealed that we should take an animal (Erinla) to the river. Surprisingly, when we got the animal, even before taking it there, we started seeing positive signs. It was the day we took the animal to the riverside that I first saw the chicks of Elemi. The chicks were of different colours moving on the river.
After we sacrificed the animal, our people had a great feast at the riverside. About 20 minutes after the feast, the clouds began to gather and what followed was a downpour. The then Alawe of Ilawe Ekiti even came to rejoice with me and told me that the rain fell beyond our domain.
What are the festivals celebrated in Igede Ekiti?
We celebrate the Ogun Festival. We also celebrate the Iroma Festival, which we celebrate collectively. Different quarters have theirs. We also celebrate Osun, which is celebrated by Odo Uri. The Uroma (festival) is about war. There was a time Igede was to go to war and the community enquired about it, and Ifa revealed that the three warlords – Elejoka, Ohinsangan, and Eruku, should go to war and that they should call on the name of one of the sons of the founder of Igede Ekiti, Aribaja. They went to war, they called Aribaja and they were victorious in the war. That is why we celebrate the Uroma Festival yearly. Our people use palm fronds for the festival. Aribaja helps our people in wars.
What else is Igede Ekiti noted for?
Every person in Igede Ekiti is associated with Elemi. Igede is noted for the Uroma Festival and Aribaja in terms of war. Igede is known for the Ogun Festival and in terms of economy, Igede Ekiti is noted for Oguro Igede (raffia palm wine), which is different from the regular palm wine.
Since you became Oba, which incident or action would you say you regret?
I can easily recall one. Immediately after my installation as Oba, traders, market men, and women ought to have returned to the Oba's market in front of the palace, but the people in the market refused to return to the Oba's market in my honour. It could have been the first test or temptation, but I maintained my calm; I ignored them. Others returned and the market activities returned to show that a king was on the throne. But later, they started sending their wares to the market until they eventually returned after about three years.
How did you feel then when you became Oba and you could not see your mother?
I could see my mother. I used to visit her. It was only that she could not come to the palace at any time. It was only scheduled in the evening.
You said you would not take another wife because you had outgrown it. How many do you have now?
My predecessor had wives, and my father's wives were there too. They were five in all, so they told me to inherit the five wives. The tradition here is that you can inherit your predecessors' wives or choose among them. I wept for about three months. It was later that I decided that I would pick one of the oloris (wives) as a wife. I then chose the head of the oloris, and that was on January 16, 1960. She was elderly. The reason for choosing only one at that time might be for economic reasons because my pay then was six pounds. I married my second wife in 1962. I married my present wife, who is the only surviving one, later.
(punch)