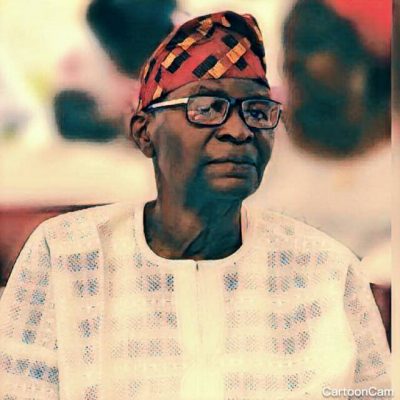 The families of GBALAJOBI and ALOBA will bid farewell to their illustrious patriarch, brother, cousin, father, grandfather, great-grandfather and friend, Late Pa Oladapo Adebola GBALAJOBI, with a Farewell and Thanksgiving Ceremony at the Cathedral Church of St Matthew, Ijebu-Jesa, on Saturday, October 20, 2018 from 10.00am.
This will be preceded with a Wake-Keep on Friday, October 19th in the Cathedral Hall at 5.00pm.
He was honoured with a memorable Service of Songs and Tributes at the Chapel of Christ, Our Light Hall, University of Lagos, Akoka, on Tuesday, Oct 16th.
The aforementioned events will be rounded off with reception and entertainment of guests at the prestigious SamuelAbiodunObeisunHall, Timsed International Hotel and Resort, Ijebu-Jesa, after the interment ceremonyfrom 1.00pm.
An ardent politician who, as a student activist at the University College,Ibadan later renamed University of Ibadan, was among agitators for independent Nigeria. He made a sway in the politics of the era. He was also at the forefront in the struggle for the freedom of Nigeria from the colonial rule.
The late octogenarian, Pa Dapo GBALAJOBI was a strategist for the old WesternNigeria spanning the present Lagos, Ogun, Oyo, Osun, Ekiti, Ondo, Edo and Delta States, as an indefatigable manager of party apparatus while strategising for the former NationalCouncil of Nigeria and Cameroon (NCNC) from the regional headquarters of the party at Mokola Roundabout in Ibadan, giving the ruling ActionGroup a formidable opposition.
Among his peers then were late Alhaji Adegoke Adelabu alias "Penkelemess", Chief Mojeed Agbaje, Chief Olu Akinfosile, Chief Adeoye Adisa, Barristers Richard Akinyemi aka Obe, Babatunji Olowofoyeku, Chief Remi Fani-Kayode, Chief Olu Komolafe, COK; Solomon Lar, Chief Harold Sodipo, Alhaji Adewale Shitta-Bey, Chief Adeniran Ogunsanya to mention but a few.
His political dexterity manifested also when the NCNC and ActionGroup became United Progressive Grand Alliance (UPGA) in a struggle that eventually led to the turmoil that saw the release of late sage, Chief Obafemi Awolowo from Calabar Prison.
As a humble and proud indigene of this great town, Late Pa Gbalajobi exhibited equal patriotic zeal in the affairs of Ijebu-Jesa Unions Conference (IJUC) in both Lagos and Ibadan.
Just a bit of what natural "DG" was all about –as an info to present and coming generations of Egboroland.
May his soul have eternal rest in Jesus name. Amen.