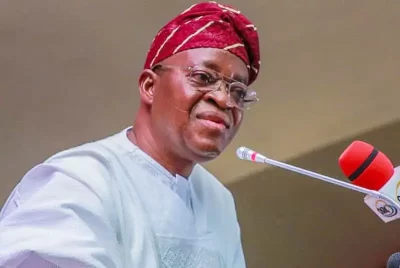 Governor Adegboyega Oyetola of Osun has declared his readiness for the July 16 governorship election in the state.
The Governor made the declaration during his tour of Irewole, Isokan and Ayedade Federal Constituency in the buildup to the primary election of the party.
Oyetola implored members of the party to remain steadfast and resolute, saying no effort would be spared to consolidate on the good works that his Administration has commenced.
He urged them to treasure their membership cards and voter cards in preparation for the primary election of the party, assuring them of all-round victory.
Oyetola added that the purpose of the strategic engagement tour was to prepare the minds of the leaders and members of the party towards the forthcoming party's primaries ahead of the governorship election.
He said the engagement tour was aimed at further strengthening the existing unity among the loyalists of the ruling party, thus exposing them to the necessity to ensure victory for the party in all elections.
The Governor said "I am very happy to be here today. As you know, our four years is coming to an end, and we deem it necessary to come for your permission and blessings. As we are rounding off the first four years, we are ready to re-contest for another four years.
"With God and your support, we believe this is possible. We came purposefully to talk to our party leaders and members so as to formally inform them of our intention to re-contest. We were here in 2018 and you prayed for us. Your prayers were in no doubt answered in view of all we went through, particularly the obvious challenges that we conquered.
"We spent like a year on litigation after which Covid-19 pandemic set in and later the EndSARS saga. But despite all these, we were not deterred. We were resolute and committed to conquer and surmount all the challenges.
"I am happy today that we have a lot to point to as our achievements in the state in general and Irewole, Ayedade and Isokan in particular. Be it health sector, infrastructure, education, security and agriculture, we have done well to bring about the desired development and transformation."