Impeachment: Senator lists Senate President Akpabio's 'sins'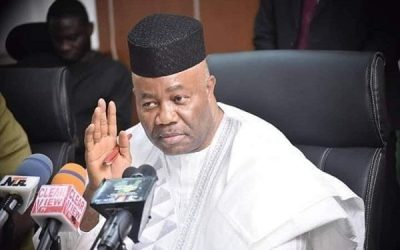 Amid talks about an alleged possible impeachment plan for Senate President Godswill Akpabio, there are claims that some federal lawmakers are polarised over his leadership in the upper chamber.
Speaking on the issue, Senator Ishaku Abbo (representing Adamawa North) in an interview with Sunday Vanguard, noted that it is not only legislators of northern extraction that are at odds with Akpabio's leadership.
Claiming that most of his colleagues in the red chamber are upset with the Senate boss, Abbo alleged that Akpabio planted a seed of discord in the Senate with the manner committees' leadership was chosen.
He said that Akpabio's loyalists were given the chairmanship and vice chairmanship of top committees, hence senators' grievance with him.
Abbo accused Akpabio of circumventing equity in his choice of those to head some committees described as 'Category A Committees.'
He said:
"If Akpabio and his camp wanted a united Senate just like Ahmed Lawal, they could have known exactly what to do during Senate Standing Committees allocation and supplementary budget resources allocation.
"But the camp of the Senate President continued to treat the Senate as a conquered territory where the winner goes home with the spoils of war. A classical example of a winner-takes-all.
"How do you explain a situation where out of Category A Committees, only two went to his perceived rivals? How will you explain a Senate where 83.1 per cent of those made Chairmen of Category A Committees are also Vice Chairmen of Category A? How do you explain a third time a senator being denied the chairmanship of a committee? How do you explain that the leadership of the Senate are all vice chairmen of Category A Committees?''