Indian Billionaire, Gautam Adani Loses Asia's Richest Person Position To Ambani After 'Corporate Con' Accusations Against His Empire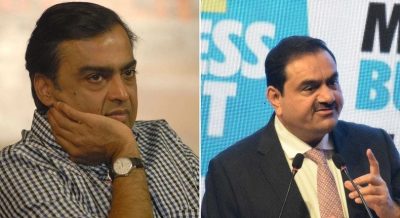 The Indian billionaire, Gautam Adani has lost his position as Asia's richest person, as his empire suffers a major hit following 'Corporate Con' accusations against it.
Forbes reports that Adani lost his position on Wednesday as shares of his listed companies slid further while his empire fights the allegations of serious fraud made by the U.S.-based short-seller Hindenburg Research.
According to the Forbes report, as of Wednesday afternoon in India, Adani's net worth shrunk by another $13 billion, causing him to drop down to 15th on the list of the world's richest people after starting the day in eighth position.
India's Mukesh Ambani, whose estimated net worth is $83.8 billion reportedly moved to ninth position on the list, thereby overtaking Adani to become Asia's richest person.
The latest Asia's richest person, Ambani is the chairperson of the conglomerate Reliance Industries, which has interests in petrochemicals, oil, gas, telecom and retail.
Forbes reports that despite its follow-on public offering getting fully subscribed on Tuesday, with backing from Middle Eastern institutional investors, the Adani Group's flagship, Adani Enterprises nosedived by 28.2 per cent on Wednesday.
The conglomerate's six other major listed firms including Adani Ports, Adani Wilmar, Adani Power, Adani Transmission, Adani Green Energy and Adani Total Gas were also in the red.
Forbes at the time of publishing the report estimated Adani's net worth to be $75.1 billion, down $13 billion on Wednesday.
It was reported that since Hindenburg Research made its allegations public last week, Adani has dropped from the third spot on our list of the world's richest and has seen his fortune shrink by more than $50 billion.
It was gathered that despite the fact that both Ambani and Adani are at the helm of massive conglomerates with varied interests, the billionaires have for years avoided a direct clash. While Ambani's Reliance has grown into a behemoth in telecom, media and retail, Adani has mostly focused on infrastructure, transport and energy distribution.
Over the past few years, however, both have tried to pivot toward green energy, raising the possibility of a market overlap in which they may be forced to compete with each other.
Last week, Hindenburg disclosed a short position against Adani Group's listed companies and published a report accusing the company of engaging in "brazen stock manipulation and accounting fraud scheme over the course of decades."
The Adani Group has vehemently denied the allegations, calling them "maliciously mischievous [and] unresearched," and has threatened legal action. In a 413-page rebuttal of Hindenburg's allegations, the company labelled them as not "merely an unwarranted attack on any specific company but a calculated attack on India" and its growth story.
Hindenburg, however, dismissed the statement accusing the Adani Group of draping itself in the Indian flag "while systematically looting the nation."