Indian opposition leader jailed two years for 'defaming' prime minister Modi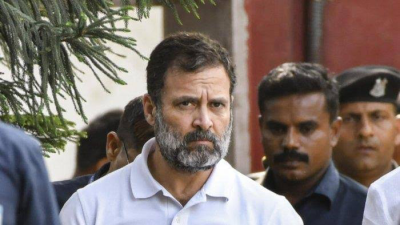 The main opposition leader in India, Rahul Gandhi, has been expelled from the country's parliament 24 hours after he was handed a two-year jail term following a defamation conviction.
India's lower house, the Lok Sabha, said in a statement that Mr Gandhi "stands disqualified from the membership," citing his recent conviction.
Mr Gandhi was on Thursday found guilty of defamation by a court in the western state of Gujarat for a speech he made in 2019 asking why all thieves have the same surname as Modi.
He was convicted for his 2019 remarks on Prime Minister Narendra Modi's surname at an election rally. He was at that time a Congress party MP from Wayanad in the state of Kerala.
Mr Gandhi was granted bail for 30 days to file an appeal against the verdict. If an appeals court sets aside Mr Gandhi's conviction, he can regain his seat.
Mr Gandhi's party reacted to the conviction and termed the verdict "erroneous and unsustainable", and pledged to fight the disqualification both "legally and politically".
"Everyone knows that Rahul Gandhi… is raising his voice against the dictator. He's showing the courage to call out what is wrong," the party said in a statement on Thursday.
On Friday, the Congress-led opposition leaders protested the expulsion during a march in the Indian capital Delhi.
Congress president Mallikarjun Kharge alleged that the action against Mr Gandhi was due to his habit of speaking truth to power and a consequence of his calling for the probe of the Adani group.
"They don't want to keep those who are speaking the truth," Mr Kharge said. "But we will continue to speak the truth."
Shashi Tharoor, an MP from Mr Gandhi's party, expressed his shock on Twitter, saying: "I'm stunned by this action and by its rapidity, within 24 hours of the court verdict and while an appeal was known to be in process. This is politics with the gloves off and it bodes ill for our democracy."
Mr Gandhi, son of former Indian prime minister Rajiv Gandhi, stood against Mr Modi to contest the country's top seat in the 2019 general election but lost.