Israeli-Hamas: Deaths near 12,000, UN mourns employees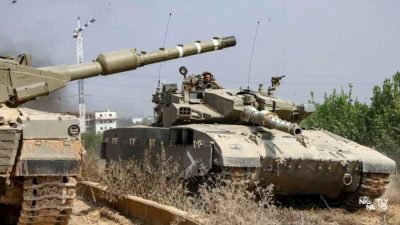 Fighting raged in Gaza on Wednesday more than a month after Hamas's shock October 7 attack triggered a furious response from Israel aimed at destroying the Islamist militant group.
More than 1,400 people, mostly civilians, were killed in Israel in the attack, according to Israeli officials.
In Gaza, upwards of 10,500 people, also mostly civilians, have been killed in the war, the health ministry in the Hamas-run Palestinian territory has said.
CNN reports that the death toll among employees working in Gaza for the United Nations Relief and Works Agency for Palestine Refugees in the Near East has risen to 99, United Nations Secretary-General spokesperson Stephane Dujarric said at a news briefing on Wednesday.
The latest death toll came just hours after UNRWA chief Philippe Lazzarini mourned the dozens of his employees killed in Gaza since the October 7 attacks on Israel by Hamas.
"We are never going to be the same without them," Lazzarini wrote on X, the platform formerly known as Twitter. "Once again I call for a ceasefire for the sake of humanity."
AFP reports that thousands of Palestinians are fleeing south from Gaza City on foot, in some cases carrying nothing but the clothes on their back.
The Israeli army has told Palestinians in the North, where it is battling Hamas militants, to move South. It said 50,000 civilians fled south on Wednesday.
Already, more than 1.5 million people in Gaza have fled their homes in search of safety, and the exodus has grown as Israel's air and ground campaign intensifies, according to UN observers.
About 15,000 people fled on Tuesday, compared with 5,000 on Monday and 2,000 on Sunday, the UN Office for the Coordination of Humanitarian Affairs said.
The Palestinian Ambassador to Nigeria, Abdallah Shawesh, on Wednesday, described as a lie, the claim by the Israeli government that it was trying to free Palestinians from Hamas.
Shawesh explained that the Israeli government was using that to justify its occupation of the country.
Speaking during a press briefing in Abuja, Shawesh said Palestinians had never solicited Israel's help to free them from Hamas.
He said,  "We are not under the captivity of Hamas, it's Israel's excuse to justify their occupation. Is it that to free me, you will kill me? If that is a way to help the Palestinians, we can't accept it."
Shawesh pointed out that Hamas was created 20 years after Israel's occupation.
The envoy said the relentless bombardments of the Gaza Strip by the Israeli forces had deprived the entire population of all their basic survival needs.
Israeli troops were "tightening the stranglehold around the city of Gaza", Defence Minister Yoav Gallant said.
"Gaza is the largest terrorist base ever built," Gallant said, vowing to destroy Hamas as Israel marked a month since the group's October 7 attack.
Meanwhile, according to AFP, Hamas has accused the United Nations agency for Palestinian refugees of "colluding" with Israel in the "forced displacement" of residents of Gaza.
"UNRWA and its officials bear responsibility for this humanitarian catastrophe, in particular the residents of the Gaza (City) area and North of it" who are following Israeli military orders to flee South, said Salama Maruf, head of the Hamas media bureau.