It'd be an honour to make music with Burna Boy – Elton John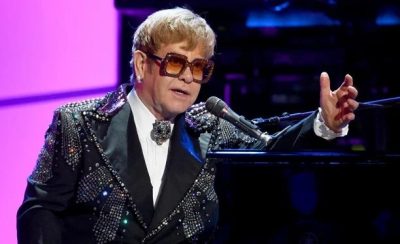 Elton John, the iconic British singer, has expressed his desire to make music with Burna Boy, the Afrofusion musician.
The award-winning pianist and composer opened up about his intention to collaborate with the 'African Giant' crooner when Burna Boy featured on the recent episode of his 'Rock Hour' on Apple Music.
The 75-year-old songwriter said Burna Boy's music is "so fantastic" that it makes him feel "really happy".
"Well, personally I would love to do something in the studio with you. I'm on a world tour at the moment but when things calm down, if you ever want to do a song with me, I'd be," he said.
"You are the one artist that I really would love to do something with, because you really make me happy, and your music is just so fantastic. It would be an honour for me to do that."
In his reaction, Burna Boy expressed his excitement to work with the renowned singer.
"I have been looking forward to that for so long," he added.
This isn't the first time the iconic British singer will be endorsing the Afrofusion star's music.
In August 2019, John made it public that he is an avid listener of Burna Boy's songs.
Burna Boy, who couldn't hide his excitement, shared a video on social in which he could be seen replaying the jingle multiple times.
WHAT TO KNOW ABOUT ELTON JOHN
John is one of the best-selling artists of all time. In his music career spanning six decades, he has sold over 300 million records worldwide.
John has received five Grammy Awards, and five Brit Awards; including Outstanding Contribution to Music; two Academy Awards, and two Golden Globes.
He also has a Tony Award, a Laurence Olivier Award, a Disney Legends Award, and the Kennedy Center Honour.  (The Cable Lifestyle)