Iwuanyanwu and Yoruba rascals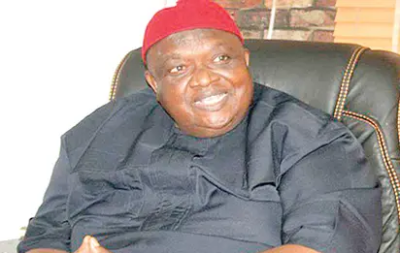 I don't understand this madness about "Yoruba rascals". Are there really no rascals in Yorubaland just as there are among the Igbo and the Hausa? In his speech in Anambra State during Prof. Chukwuma Soludo's first anniversary in office as Governor, Chief Emmanuel Iwuanyanwu was talking about the violence that trailed the Lagos governorship election, and everyone who has today become Yoruba messiah in this stupid fight, surely knows what Iwuanyanwu is talking about, but it serves their political purpose to take him (Iwuanyanwu) out of context.
One, Chief Emmanuel Iwuanyanwu was speaking of the cuff. So, he couldn't have dotted his 'i's and crossed his 't's.
Two, I just went back to listen to the video again, and I discovered that there was a momentary, undefinable pause, which signifies a break in his thought process: "Yorubas are… (pause), they're just political rascals."
He didn't just say: "Yorubas are political rascals," which would've been a point-blank assault. I understand ex-President Olusegun Obasanjo was a guest at the event. It's unlikely Iwuanyanwu would abuse the Yoruba so brazenly in the presence of Obasanjo.
Who the respectable Iwuanyanwu was referring to were those that threatened his people in Lagos, and he has the right to do that. Are we saying the Igbo were not threatened by MC Oluomo and his gang? Wasn't that rascality?
Nothing stops a Yoruba or Hausa of Igbo (generic name for Nigerians) from also pointing out to Iwuanyanwu, states where you had threat to life and property by the Igbo.
Those who call themselves leaders but who are actually political rascals in the three major tribes will surely be having a good laugh now, saying "we don kari di electorate handicap". Because they've truly boxed us all into the corner where they wanted us; the corner of insanity. The corner where we would all lose sight of their mis-governance.
Who among Yoruba political leaders have come out to criticise Iwuanyanwu? They can't because they know the truth. Are all Yoruba Omoluabi? Are all Igbo good? Are all Hausa gentlemen? The answer is no.
Let's even look at the dialectics of it. "Yoruba rascals" does not mean every Yoruba is a rascal. In this context, it means "some Yoruba rascals" and we sure do have some rascals among us the Yoruba just as we have in other tribes.
The hate anthem will do Nigeria no good. Iwuanyanwu, the Iroko, has said nothing wrong, please.
Tunde. Odesola is a journalist and columnist.