Jandor Brings Lagos PDP Candidates Together To Strategize Ahead Of 2023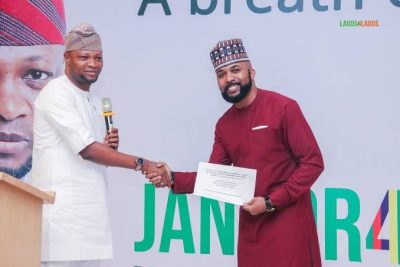 The Lagos State gubernatorial candidate of the People's Democratic Party (PDP), Dr Olajide Adeniran, popularly called Jandor has brought all the party's House of Assembly, House of Representatives and Senatorial candidates together to strategize ahead of the 2023 general elections.
The meeting that took place at Sheraton Hotel Lagos over the weekend was chaired by Jandor and the purpose was to ensure that the party comes out victorious at the 2023 polls.
 
Jandor who noted that they are confronting a ruling party that has been there for over 20 years stressed that the opposition party are trying to do a different thing so that they can get a different result, pointing out that all eyes are on them and they are going ro see how best they can go about it.
"In 2023 we want to bring a breath of freshness to Lagos State. Lagosians are looking up to us and the only we are going to do is to sit down, plan and give to the people what they have been longing for, which is that breath of fresh air.
Speaking about what Lagosians should expect in terms of the breath of fresh air that the PDP will bring in Lagos, Jandor said, "We need a breath of fresh air on roads, away from traffic theft, away from hoodlums that won't let us breathe in Lagos. It is the rainy season now and you can see the situation of a state that is generating that huge amount of money. We want to birth a government that will give attention to some of these issues.
"Unfortunately we are dealing with a government that is tired and keeps recycling the same set of people for the past 20 years. What do you expect if you do the same thing? You won't get a different result. We want Lagos to work for everybody irrespective of where you are from. Our state is rich but that is only on paper. We want to have a government where you see the wealth of Lagos on the streets of Lagos in terms of our economy," Jandor said.
On the preparedness of the PDP to win Lagos, Jandor said, "We are ready. We have done our congresses. If two or three people are contesting for a position there is bound to be an upset, once one person emerges.  The next thing is to be magnanimous with victory, especially for those who won, and bring everybody on board because it is a task that we cannot do all by ourselves. We have an internal mechanism within the party that has taken care of that. What we have today is a new Lagos PDP. You can see that we have been able to inject young energies into the party. This is our time and we are taking over. 2023 is the end of the All Progressives Congress (APC) in Lagos State.
Olubankole Wellington, also known as Banky W, House of Representatives candidate of the party for the Eti-Osa constituency, said that even though PDP hasn't won Lagos before, they are considered the task before them as a very serious challenge but he feels very confident about the crop of people that the party has, the candidates and party leadership. "We believe that this time the story will be different considering the crop of people that we have and with the support of God," he said
 
 "People that have followed the election, for the fact that something happened and there was a rerun, for me it was an encouraging sign that the party was ready to do things the right way and were ready to go through the right process to make sure that we have the right people.
On his chances considering the fact that the state is an APC state, he said, "In the case of David and Goliath in the Bible, I am comfortable being David, as an underdog, I like the vision, I like the people, I like our plans. Some people may say that Lagos State is better than other states across the country, for me, the message is that 'good enough is no longer 'good enough because Lagos can be better and the mission is to make Lagos better than it has been. Lagos is an APC state but our chances are good and I am confident we will be victorious in 2023." BankyW said.
The Senatorial candidate of Lagos East, Nicholas Adekunle, said that the PDP will win because the government in power has disappointed the people and people have lost confidence in the party.
"Lagosians have been clamouring for young people to take over leadership of the state and we have a young gubernatorial candidate in the person of Dr Olajide Adediran and that is an advantage for the PDP," he said.