Jordan blocks website for posting satirical content mocking crown prince's wedding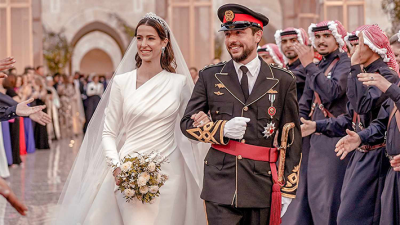 Jordanian authorities have blocked AlHudood, a satirical website, for making jokes about Crown Prince Hussein bin Abdullah's wedding, a move that underscores the suppression of dissenting voices in the Middle East region.
AlHudood, in a series of articles, has mocked the massive display of wealth at Mr Abdullah's wedding to Rajwa Al Saif on June 1, which was attended by dignitaries from all over the world, including U.S First Lady Jill Biden, Prince William of England, Princess Catherine of Wales, Crown Princess Mary of Denmark, and Crown Princess Victoria of Sweden, among others.
In one of the satirical pieces, it was claimed that guests who failed to smile throughout the extravagant wedding risked having their teeth pulled out by the heavily armed guards.
But the authorities found the posts unflattering and responded by blocking access to AlHudood in July. AlHudood is the Arabic word for "The Boundaries".
Isam Uraiqat, who founded AlHudood and moved to London, said the site had "pushed the lines" for 10 years of its existence.
"It's beyond just freedom of speech — it's everything. They're cracking down on everyone as hard as possible," said Mr Uraiqat.
Unlike its Middle East neighbours, Jordan, known to be less brutal on dissenting voices, has now passed a cybercrime law that could empower the government to crack down on anyone who criticises the monarchy