Kaduna train attack: Nigeria bleeding — but APC government on vacation, says PDP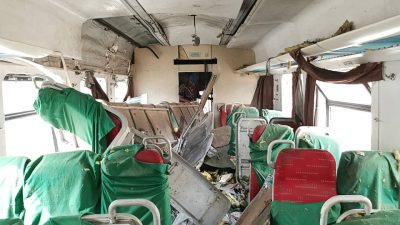 The Peoples Democratic Party (PDP) says the country is in dire straits.
The opposition party was reacting to the recent attack on a train in Kaduna state.
TheCable had reported how a train on its way from Abuja to Kaduna was attacked by gunmen in Kateri-Rijana area of Kaduna state on Monday night. The train was said to have nearly reached Rigasa, its final stop.
The gunmen were said to have blown up the rail track after which they launched an attack on the passengers.
Following the incident, some people have been reported killed, while others have gone missing.
In a statement issued on Tuesday, Debo Ologunagba, PDP spokesperson, said the attacks show that lives have become meaningless under that current federal government.
"The PDP condemns in the strongest terms the continuing insecurity and near worthlessness of the lives of Nigerians under the insensitive and cruel APC government as evidenced by the vicious terrorist attack on innocent Nigerians travelling in a Kaduna State-bound train on Monday," the statement reads.
"The successful ambush of the train on the Abuja-Kaduna service by terrorists who killed many Nigerians, abducted scores of others in an operation that lasted for over an hour, again confirms PDP's stand that the security command and control coordination structure under President Buhari has collapsed.
"More alarming is the fact this particular attack took place within two days of the deadly terrorist attack on the Kaduna International Airport on Saturday, March 26, 2022, in the same Kaduna State controlled by an APC government."
The PDP said the government has done nothing to tackle the "killing spree" which has continued unabated in the country.
"The question to ask is, how many more Nigerians can our nation afford to lose because of the recklessness and arrogance in the failure of the APC? Nigeria bleeds, families are hurting, parents mourn and agonize, yet the APC government is on vacation," the party added.
(The Cable)