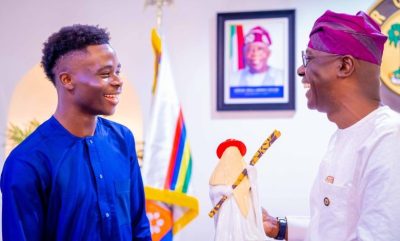 Bukayo Ayoyinka Saka has visited Lagos Governor, Babajide Sanwo-Olu, at the Lagos State House today.

POLITICS NIGERIA reports that this comes just three days after the talented 21-year-old embarked on a special journey to his ancestral home, Nigeria.

Saka, known for his breathtaking performances on the football field, captured the attention of fans worldwide.

His arrival in Lagos was met with great enthusiasm and jubilation from both supporters and the media. As the English international's parents hail from Nigeria, his visit holds significant meaning for him and his family.

Governor Sanwo-Olu took to Twitter on Saturday to share his excitement about hosting the Arsenal star. He posted photos of their meeting, expressing his admiration for Saka.

In his tweet, the governor wrote, "Today was an exciting day at the State House in Marina as I had the pleasure of hosting my favourite @Arsenal player, Star Boy Bukayo Saka. @BukayoSaka87. I also had the privilege of receiving a personally signed Saka jersey."

As an ardent supporter of Arsenal, Governor Sanwo-Olu expressed immense pride in the team's remarkable performance in the Premier League, particularly highlighting the young players' determination.

He noted that their accomplishments have served as motivation and exemplified the power of youth. The governor emphasised his commitment to fostering similar spirit and opportunities for grassroots football in Lagos.
See photos below