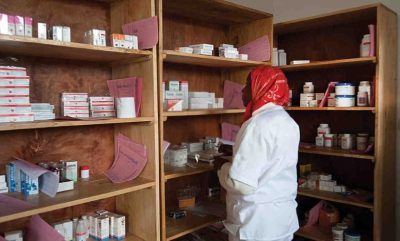 Nigeria's pharmaceutical landscape is reeling from a catastrophic surge in drug prices triggered by the exit of GlaxoSmithKline (GSK), leading to an alarming crisis in access to essential medications.
The spike in prices, a result of hoarding and price gouging, has propelled drug costs to unprecedented levels.
BusinessDay's investigative report revealed a troubling scenario, exposing how intermediaries exploit the scarcity of GSK products to inflate prices, with markups exceeding 100 per cent on critical medicines like Seretide, vital for asthmatic patients.
Compounding this issue are the adverse effects of the devalued naira and high tariffs on pharmaceutical imports, providing a suitable environment for the middlemen to profit substantially.
According to the report, the trend of parallel imports – legally bringing GSK products from other countries into Nigeria – further exacerbates these essential medications' shortages and price escalation.
Samuel Okwuada, CEO of Remedial Health, shed light on the exploitation by middlemen, who capitalize on the scarcity of GSK products to demand exorbitant prices, intensifying the plight of patients reliant on these crucial drugs.
His words:
"What you have is that people who have stocked up this product in the past or people who were lucky enough to buy, probably a week before GSK stopped bringing in their drugs, have stock.
"They (middlemen) know some of these drugs are no longer available in the market, and not many people have them. They can command whatever price they want for it. This is why you have prices skyrocketing with these kinds of margins."
Retail pharmaceutical stores corroborated these distressing findings, highlighting the exploitation occurring amid GSK's exit and the ongoing foreign exchange crisis.
They foresee a possible resolution by the first quarter of 2024, anticipating the availability of GSK products to alleviate the scarcity.
However, GSK's departure has left a gaping void, severely restricting access to vital medications for many Nigerians transforming essential medicines into unaffordable luxury items.
The exorbitant price hikes, ranging from a 300 per cent to an alarming 1,200 per cent increase in medications like Ampiclox, Ventolin inhaler, and Augmentin, have imposed overwhelming financial burdens on patients already grappling with widespread poverty and soaring food inflation.
"I bought it (Seretide) N72,000 for my cousin two weeks ago on that Island. Delivery brought it to N77,000," said Talata-Obi, a user of X, formerly known as Twitter.
The pharmaceutical sector, heavily reliant on imports, grapples with challenges arising from the FX crisis, exorbitant import costs, and overall operational expenses.
Stakeholders emphasized the need for proactive government interventions to dismantle barriers hindering local business operations.
They stressed the significance of supporting companies in establishing local manufacturing facilities to shield against currency fluctuations and ensure consistent drug supply, offering respite to consumers and combating inflation.
Kelvin Emmanuel, chief executive officer of Dairy Hills Limited, in an analysis of the challenge, said that for companies like GSK and Sanofi to manufacture (considering poor power supply and logistics), they need to open letters of credit (LCs) to import 95 per cent of these components.
He noted that banks struggle to open LCs because the Central Bank of Nigeria is not liquid enough to fund patient capital.
Emmanuel said: "So the boards of these companies sit down and ask themselves, coupled with the external risk of currency devaluation and depreciation impacting their internal rate of return, what is the incentive of spending 6 to 12 months to jostle for USD to fund dividend remittances to shareholders abroad?
"If the Nigerian government wants to fight inflation, it needs to circle back to the question: how can we help companies set up different horizontals or verticals for enterprise manufacturing across key sectors? Enterprise manufacturing is your key to ensuring the consumer manufacturers can keep inflation at bay and are shielded from the fangs of a wobbling exchange rate."