Lekki Deep Sea Port: Buhari breaks another jinx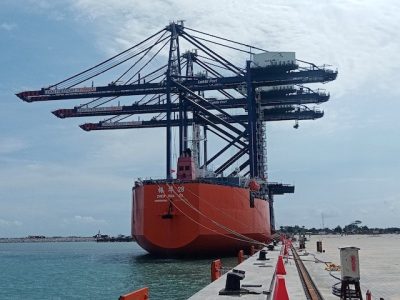 As President Buhari formally inaugurates the Lekki Deep Sea Port in Lagos on Monday January 23, 2023, it is worth highlighting that this landmark inauguration is taking place against the backdrop of the fact that only one new Sea Port was developed in Nigeria within the last forty years: the Federal Ocean Terminal (FOT), where construction of the first phase lingered from 1980 to the mid-1990s.
Let's think about that for a second. Africa's largest and most important economy — and most populous country, currently adding the equivalent of Liberia's population every year — somehow struggled to deliver a single greenfield port project, for decades. This was until Lekki Deep-Sea Port, where construction started in July 2020, during a pandemic, and was completed in October 2022.
Lekki Deep Sea Port is therefore another jinx broken, and it is a demonstration of what is possible when national and subnational governments cooperate and collaborate to incentivize and facilitate private investment.
President Buhari goes into the history books as the first Nigerian leader under whom both a standard-gauge rail line and a Deep-Sea Port were started and completed.
The Project is a Public-Private Partnership (PPP), whose realisation has been driven by President Buhari's commitment to leaving an unassailable legacy of infrastructure development in Nigeria.
Here's a rundown of the project journey:
· Even though the vision for the Port dates back several years (the original concession agreement was signed in April 2011, and FEC approval obtained in December 2013), financial close — and then commencement of construction — did not happen until the Buhari Administration.
· The financial journey started with the signing of a Letter of Intent between the Lekki Deep Seaport developers and the financiers (China Development Bank), in April 2019, kickstarting the commencement of the negotiation phase. (Earlier, in December 2018, a revised Concession Agreement was signed).
· A month later, May 2019, the Finance Guarantee provided for the project by the Federal Government of Nigeria (FGN) was approved and signed.
· In October 2019, the Lagos State Government signed a $629 million financing facility with the China Development Bank (CDB). The first tranche of this loan was disbursed by the Bank in April 2021.
· This paved the way for the official award of the Concession in December 2019, with a delivery period of 30 months.
· Construction went on through the pandemic, and was completed in October 2022.
What did the Buhari Administration do to make this Port a reality?
1. FGN signed-off on a (revised) Finance Guarantee for the project in 2019.
2. InfraCredit (a subsidiary of Nigeria's Sovereign Wealth Fund) in 2021 provided a Guarantee for Lagos Free Zone Company's (LFZC) NGN10.5 billion 20-Year Infrastructure Bond. LFZC is both the Manager of the Free Zone in which the Port sits, and the infrastructure development subsidiary of Tolaram (which owns a 22.5% stake in the Lekki Deep-Sea Port).
3. The Nigerian Ports Authority (NPA), under the leadership of MD/CEO Mohammed Bello-Koko, fast-tracked Presidential approval for the designation, in July 2022, of the Port as a Customs Port and Approved Wharf (and got this gazetted in record time).
4. NPA worked with the UK Hydrographic Office (UKHO) to get Lekki Deep Seaport coordinates and layout of sub-sea communication cables included in the Admiralty Charts.
5. NPA promptly made provision for a sinking fund for Deep Seaport, as its equity contribution.
6. NPA set up an experts-led Delivery Team to oversee the project, and fulfilled all operational preconditions — provision of Tugboats, Pilot Cutters, Mooring Boats, Navigational Equipment, Tariffs, Safety Support, Traffic Management for access roads, etc. — in a timely manner.
7. The unwavering focus and commitment of the Administration, exemplified by the actions of the then Minister of Transportation, Rotimi Amaechi. From August 2020, HM Amaechi instituted quarterly site visits, followed by monthly visits (multiple visits a month in some instances) to oversee the construction and resolve any issues arising.
8. In July 2022, the Federal Government awarded a Road Tax Credit project (under President Buhari's Executive Order 7) to Dangote Group, for the construction of a new 54km access road to link the new Deep-Sea Port to the Shagamu-Benin Expressway, through Epe.
9. On its own part, Lagos State has recently completed the Dualisation of the 19km stretch of road between Eleko and Epe T-Junction, to further improve road access to the area. Lagos State has also committed to expanding the Ajah to Eleko Junction section of the Lekki-Epe Expressway.
10. In a sign of increasing cooperation between sub-national governments, Ogun State has also completed construction of Ijebu Ode-Mojoda-Epe Road, which links Lagos State's own Lekki-Epe Expressway projects.
The Port:
Lekki Deep Sea Ports is Nigeria's first Deep-Sea-Port, and first fully automated port, with shareholding as follows: China Harbour Engineering Company: 52.5% | Tolaram: 22.5% | Lagos State Government: 20% | Nigerian Ports Authority, on behalf of FGN: 5%
The Port (Phase 1 completed in Q4 2022, and commissioned by President Buhari in January 2023), has the following features:
· It is the first fully-automated Sea Port in Nigeria, equipped with state-of-the-art Super Post-Panamax ship-to-shore cranes, and RTG cranes.
· Phase 1 sits on an area of 50 hectares
· Approach channel is around 11km long and 16.5m deep; Main breakwater is 1.9km long
· When fully-completed, Quay length of 1,523 meters, and Turning Circle diameter of approximately 600m
· In Phase 1, two (2) container berths with total capacity of 1.2 million TEUs annually (upon final completion, there will be a total of three container berths, one dry bulk berth and three liquid berths)
· Concession period of 45 years
· Commercial operations will commence in Q1 2023
· The most modern Sea Port in West Africa.
*Tolu Ogunlesi is a Digital Communications aide to President Buhhari and Journalist on Sabbatical