Loud explosions rock Sudan's capital as infighting worsens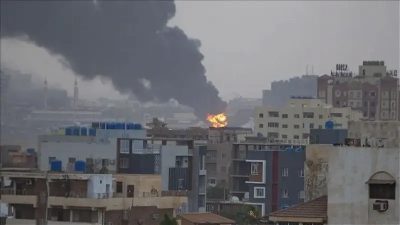 Sudan's capital, Khartoum was hit with more loud explosions on Wednesday, as fighting between warring generals escalated despite truce talks in Saudi Arabia.
Two huge explosions were heard across greater Khartoum during the night as reported by residents of multiple districts, according to BBC.
Vanguard reported that representatives of the warring generals – army chief Abdel Fattah al-Burhan and paramilitary commander Mohamed Hamdan Daglo flew to Saudi Arabia on Saturday for peace negotiations.
The dialogue was termed "pre-negotiation talks" by Saudi and US mediators.
The talks have not yielded any tangible results as residents recounted their ordeal of explosions hitting the city.
"We were woken by explosions and heavy artillery fire," said a resident of Khartoum's sister city of Omdurman.
BBC reported there was still no announcement of any progress in the talks in the Red Sea port city of Jeddah.
Earlier this week, a Saudi diplomat acknowledged that a permanent ceasefire was not even on the table as each side "believes it is capable of winning the battle."
The top UN aid official, Martin Griffiths, has left Jeddah after he "proposed a declaration of commitments for the two parties to guarantee the safe passage of humanitarian relief," a UN spokesman in New York said Tuesday.
More than 750 people have been killed since the fighting erupted on April 15 and the majority of them were civilians.
Nearly 150,000 refugees have crossed into neighbouring countries, while 700,000 people have been displaced inside Sudan.