Magnus Onyibe publishes anthology on Isa Funtua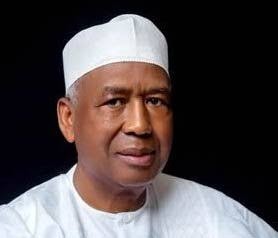 Magnus Onyibe, a former commissioner for information in Delta state, has published an anthology on Isa Funtua, an associate of President Muhammadu Buhari.
The book titled "Ismaila Isa Funtua, A Bridge Builder: Chronicles of a Political Activist, and the Jostle for the Presidency of Nigeria in 2023" is based on the life and times of the late elder statesman who passed on in July.
In a statement issued by John Bansika, the coordinator of the project, the book also highlights the critical role Funtua played in Nigerian politics until his death.
"The book is in part focused on the elder statesman and his bridge building legacy, both in terms of physical and human relationships," the statement read.
"Onyibe also leveraged the critical role that mallam Funtua played in Nigerian politics since the 2nd republic when he served as a minister of the federal republic to his last position as a member of the inner circle of the president of the Federal Republic of Nigeria during the 9th republic, to dig up and bring to the threshing floor issues surrounding the presidential power sharing calculus between the north and south."
According to Bansika, the first two chapters focus on the life of Funtua, while the last two reveal the hindrances surrounding the power shift between the north and the south.
"The first two dwell on the late mallam Isma'ila lsa Funtua's political odyssey and features comments from his friends and associates," he said.
"Both chapters reveal critical facts about Nigeria from the eyes of Nigerians who have been in and around the corridors of political power in nearly four decades.
"The views also included are those of his former colleagues in the media, who upon his passage renamed NIJ House after him, and thus triggered another controversy as the gesture and mark of honour became another lightening rod.
"The other two chapters highlight some hidden hindrances to the realistic and practical implementation of the presidential power shift between the north and south equation, and amplify the historical facts to be contended with by those contending for the presidency of Nigeria from 2023 should be ceded to someone of lgbo extraction.
"The new book is expected to generate more excitement amongst politicians and politically-conscious Nigerians in the already tension-soaked sociopolitical space."
Other books authored by Onyibe include: "Beyond Loss & Grief: The Story of Kikaose Ebiye-Onyibe; "A Survivor's Guide on How to Cope with the Loss of a Child", and  "Abba Kyari: Portrait of a Loyalist – The Good, The Bad and The Ugly Sides of Public Service in Nigeria".  (The Cable)