Manchester City on brink of Premier League glory as Manchester United visit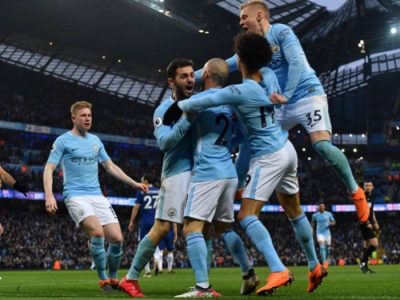 Manchester City can ease the pain of their Champions League defeat to Liverpool by clinching the Premier League title against bitter rivals Manchester United on Saturday in record time.
Pep Guardiola's men will become the first team in the league's 26-year history to wrap up the title with six games to spare if they beat United at the Etihad — a fitting end to a season of almost total dominance in the league.
City are 16 points clear of Jose Mourinho's second-placed team so it is a matter of when rather than if they wrap up the Premier League title, the first of Guardiola's reign in England.
The runaway leaders will be desperate to reassert themselves after their chastening 3-0 defeat in the first leg of their Champions League quarter-final at Anfield.
But the derby comes just three days before the return leg of their European tie and Guardiola faces a difficult balancing act, still believing he can overturn the Champions League deficit at the Etihad.
"Nobody believes but we have another game," said Guardiola after the defeat to Jurgen Klopp's men. "We have to accept it and now we have United at home and then Liverpool at home.
"We see what happens. Of course it is difficult but we believe."
United, serial winners of the Premier League under former manager Alex Ferguson, will be desperate to throw a spanner in City's works and reclaim a modicum of pride.
City star Kevin De Bruyne knows staging their title celebrations while United are forced to watch is a delicious prospect for the club's fans.
"These are the games you play the whole season for. It would be wonderful, something different," he said.
"You know how it goes between City and United, you know the history, so it would be historic. The sooner we do it, the better."
– Balance of power –
After decades of living in United's shadow, City have changed the balance of power in Manchester firmly in their favour and are on the verge of their third title since 2012.
Having endured a disappointing first season with City, Guardiola has silenced the critics who claimed his purist principles would not work in the cut-throat Premier League, meshing his desire for a smooth passing style with an ability to compete physically.
Belgian midfielder De Bruyne has been their driving force, while David Silva, Leroy Sane, Raheem Sterling and Sergio Aguero have all played key roles.
Former Barcelona and Bayern Munich boss Guardiola won his first English silverware in February when City trounced Arsenal in the League Cup final.
By then, City had already turned the title race into a lengthy coronation and it would be fitting if they complete their journey with one more record-breaking victory, even though their probable Champions League exit threatens to cast a shadow over the celebrations.
City set a record earlier this season by winning 18 successive league matches and a host of other statistical milestones are within their reach.
Currently on 84 points, the leaders are chasing Chelsea's Premier League record tally of 95 points set in 2004-05. With 27 wins so far, they can also beat Chelsea's high of 30 victories set last season.
United won the title by the widest margin when they took it by 18 points in 1999-2000 but that record could also fall to City, who, with 88 goals scored, have their sights set on Chelsea's 103 netted in 2009-2010.
City's dominance has been so overwhelming that many are already ranking them among the best teams in Premier League history, alongside the likes of Arsenal's "Invincibles", who won the 2003-04 title without losing a single match, and United's 1999 treble winners.
Yet making City wait for their place among the immortals would be some consolation for United, whose midfielder Juan Mata is well aware how important it is to show some pride.
"This game doesn't come in an ideal situation, for there's quite a gap of points between the two of us, but we all know that it's a special game," Mata said.
"We're looking forward to playing against them and having a good performance. That's what our fans deserve."

Fixtures
Saturday (1400 GMT unless stated)
Everton v Liverpool (1130), Bournemouth v Crystal Palace, Brighton v Huddersfield, Leicester v Newcastle, Stoke v Spurs, Watford v Burnley, West Brom v Swansea, Manchester City v Manchester United (1630)
Sunday
Arsenal v Southampton (1315), Chelsea v West Ham (1530)
(AFP)