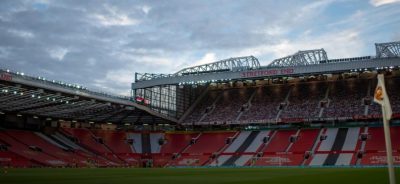 Manchester United's board of directors announced a possible transfer of ownership on Tuesday.
The English football club said it is commencing a process to explore "strategic alternatives".
In a statement posted on its website, the club said the process is designed to enhance future growth, "with the ultimate goal of positioning the club to capitalize on opportunities both on the pitch and commercially".
"As part of this process, the board will consider all strategic alternatives, including new investment into the club, a sale, or other transactions involving the company," the statement reads.
"This will include an assessment of several initiatives to strengthen the club, including stadium and infrastructure redevelopment, and expansion of the club's commercial operations on a global scale, each in the context of enhancing the long-term success of the club's men's, women's and academy teams, and bringing benefits to fans and other stakeholders."
Avram Glazer and Joel Glazer, the executive co-chairmen and directors, were quoted as saying: "The strength of Manchester United rests on the passion and loyalty of our global community of 1.1 billion fans and followers.
"As we seek to continue building on the Club's history of success, the Board has authorized a thorough evaluation of strategic alternatives.
"We will evaluate all options to ensure that we best serve our fans and that Manchester United maximizes the significant growth opportunities available to the Club today and in the future.
"Throughout this process, we will remain fully focused on serving the best interests of our fans, shareholders, and various stakeholders."
The club said it does not intend to make further announcements regarding the review "unless and until the board has approved a specific transaction".
The announcement comes in the wake of the severing of ties between Cristiano Ronaldo and the club.
The Portuguese striker had last week criticised Manchester United in an explosive interview he granted to Piers Morgan.
Ronaldo had lamented that there was no growth at the club, saying there has been no development in terms of technology and infrastructure in over a decade.