Many Nigerians suffer abroad because they did not seek God's approval before going there – Bishop Akinola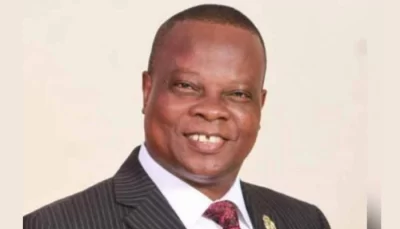 The presiding bishop, Rhema Christian Church and Towers (RCC&T), Taiwo Akinola, spoke with SEYI JOHN SALAU on the 32nd Rhema World Convention 2023 and why the congregation are thankful during the thanksgiving service held on 12 November 2023, at the Champion Peace Cathedral, Temidire, Sango-Ota, Ogun state, to conclude the ministry's weeklong convention. Excerpts:
Congratulations on your 32nd convocation; how has the journey been in the last 32 years?
It has been filled with grace and glory that is just the truth. The Bible said the Lord gave the word; great was the company of those that published it. He called us forth and He's been supporting us. So, we give Him all the thanks. I always say we run convention in this church not because it is conventional to do so, but because we feel the necessity to give thanks to God who has been our sustaining grace – God has been so good.
The last time we were here, you spoke about the City of Zion; how far have you gone with the development?
We are still developing it; it's still an ongoing project. We still hold some programmes there but the road is seriously bad. Like I said the last time we had a programme there some people got home at 11pm because of the bad road. Can you imagine from Wasimi, you go through Abeokuta – it's mostly the infrastructural issues but we thank God; God is still moving us forward.
I would like to take you back a bit; after Archbishop Obembe died. The mantle of leadership in the ICCAM was passed to you but it seems the association has been quiet?
We are not really quiet; in fact we had a meeting recently. There are some things that call for patience. You know ICCSM is not El-Shaddai, ICCAM is the communion. We are regular in our programmes and we love each other. So we are bonded and we are growing. Now, I know that there are some issues that require processes in the El-Shaddai church itself, that's why you have not been hearing our voice. When baba died; shortly after mama also died, are you aware? That created some complications – so, that was the issue. But, we are still together. So, ICCAM is still kicking, and we are still bonded.
During your state of the nation address, you advocated for a government of national unity. Don't you think this can create a one party system in the country?
Well, I think you borrowed me that word – I didn't really use the word government of national unity. Essentially I do not believe the thing should be winner takes all, that kind of a thing. Nigeria belongs to all Nigerians; wherever you find sound brains – people who can really deliver, let's bring them in. You saw what the Okonjo-Iweala people did during the Obasanjo regime; that's exactly what I was advocating for and I used the word intra-party or non-partisan participation. I know some people in UI; some professors who are very exert but they are not politicians and they may not even remember them. So, if you bring them in they can turn the economy around – that was what I was advocating for. Of course I am also aware, particularly in Nigeria almost all parties are the same thing, let's not fool ourselves; that's why they find it easy to jump from one party to another – they don't have ideology. But, there are some people who are not politicians who have great ideas and who are nationalistic; who are patriotic in their approach. If they can reach out to them and bring their expertise to bear without thinking that if we bring them they will take the slot of our party men – that is the ideal thing I am talking about. In today's world you think it must just be our party because those are the people who laboured (that kind of a thing). So, if we can shelve that a little bit and bring in some people who can really deliver, Nigeria will be better.
For many Nigerians out there, their japa story is turning sapa; what are some of the issues driving such behaviours?
The Bible says some people without being called, they began to run. Some people are not meant to go out there – if you join them, you suffer. Way back as far as 1989, I saw beggars in London – they were smart with it, not like what we have in Oshodi, but they are still the same thing. I think in the year 2000 when I was in the US for the first time, I saw people begging. Going there is not the thing, if God doesn't have a place for you there, going there you just going to suffer. I also do not believe if God has not opened a door for you to not begin to beat the wall, it will endanger you. So, those who sell everything, particularly those who try to use a ferry across the Atlantic or walk through the desert – I don't know what they are looking for. In this country, if people are hardworking they can still make some level of end story, that's my opinion about life.
What is your view on youth unemployment and the future of Nigeria?
The future of Nigeria lies with the youth as they are one of society's main agents of change and progress. But, sadly, the ruling class in Nigeria rather toys with the future of our youth, through lack of employment opportunities and failure to explore the possibility of channeling their energy towards productive ventures by providing enabling environment for them to thrive in Information and Communication Technology (ICT), Small and Medium-Sized Enterprises (SMEs), Agro-business, etc. In recent times, out of disenchantment with the system, with sadness, the best of our youth are fleeing the country in droves, via the Japa syndrome, in search of greener pastures. Very urgently, concrete efforts must be exerted to tackle the twin challenge of unemployment and poverty in our beloved nation, Nigeria. We are quite aware that the present central administration has set a new precedent by appointing a few youth into the Federal cabinet. It is our hope that governments at all levels will do the same, and that the youth also will show that they believe in the future of Nigeria through their words and deeds. We are also appealing to the governments at all levels to urgently restructure our economic system, develop sincere courage to fight corruption, and address the issue of unemployment in the better interests of employable youth and a more beautiful future for the country at large.
The ongoing Israel-Hamas crisis has linger longer than expected; as a religious leader what is view on the crisis?
Well, I know that this is something that has brought a lot of division among people. But, let's look at the long and short term position. This current crisis started October 7; some persons who have been training themselves for about two years just opened the border of a nation and killed about 1400 people, took some people hostage. Did they expect that they would just fold their harms? No nation will ever do that. So, that's why sometimes I don't like speaking out on such issues, but anybody that comes to someone's house, and you kill people – you must be ready for the consequences. Now of course, Israelis now drew a war goal – in fact they have a government of national unity (they called it war council), they brought all their opposition together so that they can harmonise their views, and they said the goal is that they want to deplete the military capabilities of Hamas. You can't blame them – they sat down and decided and you can't really blame them. How will somebody come to my house – you took my people, you rape my women, and they said they took some babies and cut off their head. Unfortunately, the carnage going on in Gaza also makes one feel sad. If you ask me what I should wish – I would have wished that the ordinary citizens in Gaza should speak out; we are not in support of these people because it was they that voted them in. In other words, they represented them there and the representation has not been very good. But I pity all who have lost lives and belongings – it's natural. One feels sad and I try to follow the story every now and then; it pains me that lives are being lost and bloods are being shed.
Do you think a two-state solution will work?
I believe in fairness. I was trying to say without wasting too much word that there is a long term and a short term solution. I just spoke about the short term solution – the long term issue is that Israel has been in the land; if you read the New Testament it also talks about the land of Palestine. So, the people have been there – if the two people agree together on terms, they can live side-by-side. We are living by the side of the Benin republic now, there is no war – so, if they can agree on that I believe the same thing will be. But, unfortunately when they did the other time Arafat opposed it. It is the Palestinians who are saying they don't want Israel to be there and they also consider that they were established in 1948. But, it's beyond that – that is the reality on ground because that is the land of the Bible. The Jews have been there over the years, so if people look deeper the best thing would be a two-state solution. Let them co-exist side-by-side in love and harmony.
Looking at the state of the nation; what are your concerns about the national economy, especially the currency?
Last year we lamented that the Dollar to Naira exchange rate was bad. About six years ago, a dollar exchanged for N160, but today, it is over N1000 to a dollar while the pound exchange for over N1, 500. This is quite saddening, especially because of its attendant effects on our national socio-economic engineering. Definitely, Nigeria is presently facing its worst economic crisis in years. Some schools of thought believe that this is largely due to a significant devaluation of the Nigerian naira that began in June this year, coupled with some huge foreign debts that have been hanging on our national economic neck for some years now. The Central Bank eased foreign exchange controls in mid-June, as part of the economic reforms overseen by President Bola Ahmed Tinubu, prompting the official rate to plunge more than 40 percent over the past four months. This caused the naira to suffer a massive devaluation. Moreover, our main source of forex is challenged. Accruable revenue from crude oil is being challenged by oil theft, affecting our ability to meet our OPEC quota. This is shortening our ability to earn forex. Some experts have also identified our propensity for import at the detriment of local production as another reason for our dwindling forex earnings. We import a lot of things in the country, including fuel and toothpicks, and this continually puts pressure on the forex. We need to top up our local production. Meanwhile, some economists think that such devaluation is badly needed to harmonise the naira's real value and help our attempt at improving exportation, but the social impact on the generality of the citizens is very hard to swallow. The suffering of the people has been very profound since the removal of the subsidy in June. In our opinion, enough has not been done to mitigate the harsh impact of the fuel price hike on the poorest sections of the Nigerian population. We had hoped that by now investment in public infrastructure, education, healthcare and jobs should have begun to materialize to materially improve the lives of millions. Government should show some sensitivity in this regard by coming up with some solid sustainable relief measures to cushion the adverse effects on the citizens. From available statistics, Nigeria's Q3 2023 GDP rose by 2.5 percent, below the 3.5 percent growth in 2022, but better than the Q2 figure of 2.1 percent. This minimal growth was driven mainly by the non-oil sectors, with the top-contributing sectors being agriculture (23%), trade (16.8%), and telecommunications (16.06%), which grew by 1.5%, 2.4% and 9.7%, respectively. It gladdens the heart to note that the non-oil sector performance was powered by the Agriculture and Trade sectors. Though the figures are not really cosy, it is a good starting point. More strategic policies should be put in place to reset the faulty economic structure, using technology in favour of these productive sectors. This could eventually have greater positive impacts on employment generation, wealth creation and poverty reduction. In general, we believe that the government must make concerted and well thought-out efforts to improve its fiscal and trade policies to shore up the Naira and check its consistent downward slide. Nigeria must also increase her foreign reserves through a proactive trade policy, reduce its appetite for foreign loans, and boost local production to depend less on the importation of goods including refined petroleum products. We as Nigerians too should curb our undue appetite for imported goods. Otherwise, the Naira will continue its dangerous downward slide.
Many have blamed the rising inflation on some of the recent policies of the government; what is your view on this?
Nigeria's annual inflation rate climbed to 25.8 percent in August 2023, from 24.08 percent in July and marking the highest rate since September 2005. This is indeed a sharp increase from 18.25 percent in 2022. No doubt, this reflects the impacts of the removal of fuel subsidies, the devaluation of the official exchange rate and security issues in the core food-producing regions of the country. These have made the costs of essential items such as food items, drugs, and raw materials for industries, spare parts, and automobiles to hit the roof. The purchasing powers of millions of Nigerians have been greatly lowered, and this was alluded to by the Organised Private Sector (OPS), which states that presently the manufacturing sector has over 200 billion unsold stocks. The government at this period must take the necessary steps to save the economy, and Nigerians in general, from the pangs of hunger. This may require some non-partisan interventions from patriotic egg-heads and technocrats, who abound in Nigeria and in the diaspora.
Some of these economic crises are directly linked to insecurity; as a religious leader what can be done differently?
The security situation of the country is yet to significantly improve after several years of promises. Nigeria is still ranked among the top countries with the highest level of terrorism in the world. The Global Terrorism Index (GTI) 2023 assessed terrorism impact in 163 countries and came up with the conclusion that Nigeria is still unsafe as a result of intractable cases of terrorism. Nigeria remains among the least peaceful countries as it ranks 144th in the Global Peace Index 2023 with a state of peace that is regarded as low. As a Church, we strongly value safety of lives and properties, and are, therefore, constantly burdened and somewhat traumatised by the growing level of insecurity in the country. We believe that the security of lives and property is a foremost constitutional responsibility of the government. Where a government fails in this regard, it has truly failed and this gives a great cause for concern. It is recorded that in the past five months alone, more than three hundred people have been reportedly murdered by bandits in different parts of the North Central states of Nigeria. Furthermore, some heartless bandits and militants are still terrorising innocent people in the northeastern part of the country.
Curiously, therefore, some privileged socio-religious elites, like one Sheik Gumi, are still making some recklessly unguarded and rather inflammatory statements that can constitute national security risks. Meanwhile, we must appeal to the Armed Forces to continue to work harder and ensure that such culprits are brought to book without any ethno-religious considerations, in a bid to make Nigeria safer for everyone to live in and make Nigeria an attractive destination for investments. At the state level, we equally call on the governors to take up the challenge to step up their activities in securing their States. All hands must be on deck to reverse the deteriorating security issues in the country so that the governments can discharge their primary responsibilities of safeguarding the lives and properties of the citizens.
The last general election has been fought and lost at the Supreme Court. What is your message to Nigerians, politicians in particular?
It brings grief to the heart that many Nigerians have become so deadened to the noble idea of patriotism. While this trend may be attributable to the severe economic hardship and other negative experiences that we are facing, it is still not acceptable. Many Nigerians will not wince at sharing unpalatable news about the nation, and will always be glad to accept the worst about the nation. The national situation may be bad but it is not a song to be sung so gleefully by us Nigerians. Specifically, the unwarranted negative attention given to Nigeria in global circles is not helpful to our general reformist clamour, or even to our collective national outlook. Unfortunately, the reputation we build by ourselves for ourselves makes us stink wherever we go. As a Church, even though we are significantly apolitical, yet we strongly urge all Nigerians to desist from careless talks about the country. We urge all citizens to realize that the current socio-political situation of the country is bad enough, and we certainly have no need for further distractions that could eventually plunge us deeper into abysmal darkness. At this point, we bless God that the sickening aftermath of the 2023 presidential election whereby some national leaders went overboard in rubbishing themselves and, by extension, smearing dirt on Nigeria and other Nigerians, in the market-square has finally been laid to rest, especially now that our Supreme Court has given her ruling on it. Usually, when top political elites continue to fight dirty, it is the poor masses and downtrodden in the society that usually bear the brunt. Hence, we use this medium to appeal to all Nigerians across the various political spectrums, to please end all the diverse battles and needless controversies on the matters of 2023 Presidential election and electioneering, and sheathe our political swords now as law abiding and patriotic citizens. We also urge every Nigerian at this time to please allow our political and emotional wounds to heal, and let us free our minds from all forms of vendetta, ill feelings, tribal animosity and egregious negativism against each other. Let's forgive and leave behind us the ugly irritations of the past few months, and decide to be good and patriotic Nigerians again. Because Nigerians are highly endowed, deep-rooted in thinking, highly cerebral, remarkably religious, we may not and cannot all agree with the President and his government on all their choices and policies all the time.
Albeit, we must all congratulate him now, and encourage him to focus on his sworn duty to deliver decent living and opportunities for positive human development for all Nigerians, irrespective of tribe, gender, region or religion. Moreover, no matter how we feel about certain issues, it is quite settling for me personally to have realized long ago that the best among men don't always have the rule, but only those whom the Everlasting Arms of destiny choose (Daniel 4:17). Indeed, only the Most High God rules and overrules in the affairs of men. Unfortunately, stress, troubles and social upheavals continue until we know that (Daniel 4:25). No doubt, the tasks involved in building a big and promising nation like Nigeria, with sustainable economic growth and enviable security architecture, with top-notch social infrastructure and amenities, in a united, highly motivated nationalistic outlook, clearly just and realistically egalitarian are very enormous, and will certainly require the cooperation of all true patriots. We use this medium, therefore, to call on all registered political parties to please embrace the focus of building a united, secure, peaceful and prosperous nation, which we all Nigerians, at home and abroad, will be proud to call our home country. I also challenge all our past and present leaders to genuinely work together, and in concert with the electorate for a better future. I totally agree that we all must speak up regularly, agitate and keep the ruling party on the right track at all times. Howbeit, we must do these rightly, peacefully, maturely and decently, with a keen patriotic sense of a greater outlook for Nigeria and all Nigerians.
Finally, as we conclude this year's convention; what would worshipers be thankful for?
They will be thankful for the appearance of God's glory because He said look at me and you will be illuminated. You remember, Moses went to the mountain – without doing any special thing he came back; the bible says his face was literally glittering. So when you are in God's presence, naturally you catch the glory of God. And, in specific terms, if God is the one who is now giving us this glorious personal invitation – because I told my people; one thing we do very seriously in this church, I don't just pick a theme for convention – this theme, we waited for close to three months before I was able to pick it. I can write on motivation, I can write on highly favoured, be blessed or anything else; but this is the theme, and when I studied I discovered that God wants to do something. He said look on me and be ye saved. He said they looked at God and they were lightened and their faces knew no more shame. So, all issues of shame and reproaches, arrested development will be gone. So, what would they thank God for? Reproach and shame will be no more. He will visit us at the point of our needs, and our faces will begin to radiate.
(BusinessDay)