MAYA ANGELOU! Google celebrates legendary author with a doodle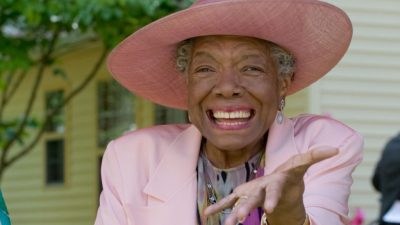 Global Organization of Oriented Group Language of Earth (Google) has celebrated legendary author Maya Angelou who died at the age of 86, on May 28, 2014.
Angelou died at her home in Winston-Salem, North Carolina in the United States of America after suffering heart problems.
The revered poet until her death was a singer, memoirist and a civil rights activist who attained over 50 honorary degrees.
Before her death, she published seven autobiographies, three books of essays, several books of poetry and was also credited with a list of plays, movies and television shows spanning over 50 years.
The revered poet was born on April 4, 1928, at St. Louis, Missouri in the United States of America. She attended California Labor School, George Washington High School.
She won several prestigious awards during her work which includes; Presidential Medal of Freedom, Marian Anderson Award, Langston Hughes Medal, Grammy Award for Best Spoken Word Album, Spingarn Medal , NAACP Image Award for Outstanding Literary Work, Nonfiction, Quill Award for Poetry, Women in Film Crystal Award, The BET Honors Award for Literary Arts, Glamour Award for The Poet as well as NAACP Image Award for Outstanding Literary Work-Poetry.
Angelou's legacy leaves on as she left behind a body of important artistic work that influenced several generations. She was described by those who knew her as a good person, a woman who pushed for justice, education and equality for all.
Most renowned among her seven autobiographies is; I Know Why the Caged Bird Sings (1969), which focused on her childhood and early adult experiences. She told her readers about her life up to the age of 17, and the book eventually brought her international recognition and acclaim.
Angelou until her death was respected as a spokesperson for black people and women. Her works have been considered a defense of black culture. Her works are widely used in schools and universities worldwide. Her books centre on themes such as racism, identity, family and travel.
See doodle below: