Moribund mills: Paper imports gulp N1.63trn in five years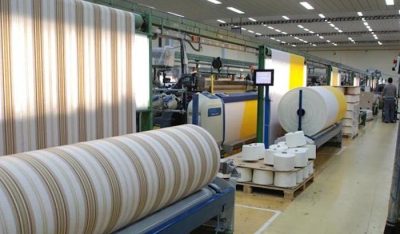 Despite an abundance of domestic raw materials, Nigeria spent N1.63 trillion on the importation of paper and its allied products in the last five years.
From print media to companies and millions of schools scattered around the country, Nigeria's demand for paper is huge. But as in many once-thriving industries, inadequate local production continues to create a deep void that is bridged by imports.
Data obtained from the National Bureau of Statistics showed Nigeria's importation of paper and its allied products grew by 25 percent to N412 billion in 2022.
Further breakdown showed Nigeria's paper imports gobbled up N328.9 billion in 2021, N188.6 billion in 2020, N491 billion in 2019 and N214.3 billion in 2018.
The country spent N200 billion in 2017, N162 billion in 2016 and N151 billion in 2015 on the importation of paper.
"The fortunes of Nigeria's milling industry follow the country's depressingly familiar cycle of a promising beginning, grand plans, growth, depression, setbacks and bust," Tunde Obokhai, chief executive officer of DCS Integrated Media, said.
He listed challenges such as collapsed infrastructure, foreign exchange shortage, naira depreciation, the rising cost of raw materials, poor research efforts, and policy-related issues as major problems bedevilling the sector.
He urged that the government to prioritise resuscitating Nigeria's moribund paper mills or support the establishment of new paper mills, which would tremendously reduce the dependence on importation for production activities.
The latest CEO's Confidence Index report of the Manufacturing Association of Nigeria (MAN) showed the score of the pulp, paper, printing and publishing sector fell to 49.6 points in the fourth quarter of 2022 from 50.9 points the previous quarter.
"The score indicates a gross loss of confidence in the economy by manufacturers operating in the sectoral group," MAN said.
Olugbemi Malomo, national president of Chartered Institute of Professional Printers of Nigeria, lamented that the heavy reliance of the major spenders like the Independent National Electoral Commission (INEC) and the Universal Basic Education Commission (UBEC) on foreign printers is killing the local printing industry.
"The Federal Government should come up with a deliberate policy that would make its big spenders like the INEC and UBEC be part of the solution to local paper production," Malamo said. "With 60 percent of Nigeria's population in one school or the other and over 1. 2 billion books printed annually, imagine if all these papers are sourced locally."
Between 1960 and 1986, the Federal Government established three paper milling complexes — Nigeria Paper Mill in Jebba (1969), Iwopin Pulp and Paper Company (1975) and the Nigerian Newsprint Manufacturing Company, Oku-Iboku (1986).
By 1985, findings showed Jebba mill was churning out 65,000 metric tonnes (MT) of kraft paper, liner and chipboards, sack kraft, and corrugated cartons per annum.
Iwopin Pulp and Paper Company achieved 96 percent capacity utilisation, according to the Bureau of Public Enterprises, producing over 35,000MT of bleached short fibres and 60,000MT of fine writing, printing papers annually.
"The spell of mismanagement, corruption, neglect, and gross incompetence hit the sector. Capacity utilisation dropped gradually until production almost halted altogether. The three mills became distressed, joining the carcasses of virtually all other state-owned enterprises in the country," Mohammed Ibrahim, a former director of Nigeria Paper Mill, said.
Sources in the sector said some of the investors who bought the paper mills from the government since the 2000s had been merely interested in importing papers while claiming to be producing them locally.
"They also did not invest in them. Some of them also did asset stripping," a source, who did not want his name mentioned, said.
Even if the firms are working at 100 percent capacity today, experts say they can only provide 250,000MT of paper needs as against the demand of over 3 million MT.
"Nigeria needs 50 small-scale paper mills now," Oluwaseun Jegede, consultant on market assessment, said. "The big problem investors see is raw materials, but kenaf is now available all over Nigeria."
There are, however, new paper firms that are expanding investments. Dahua Paper Company is planning to invest $500 million in tree plantation in Ogun State to enable it to get raw materials for paper production.
Another is Onward Paper Mill, which recently signed a recycling agreement with Tetra Pak. Bee Paper is also one of the new companies that have sprung up to replace non-functional paper mills.
The global pulp and paper market is projected to grow from $354.39 billion in 2022 to $372.70 billion by 2029, according to data from Fortune Business Insights. But findings show Nigeria is not in the party.
"We see that Ghana, Madagascar, Uganda, Zambia and Zimbabwe are beginning to pick up the pace in their own local paper production mills, a challenging endeavor to wean off importing paper-based products, with hopes to have a larger role in their own domestic markets," Africa Pulp and Paper said in a recent note.
According to the intelligence publication, South Africa currently dominates the packaging paper and tissue paper machine distribution market from a machinery standpoint.
The country boasts 18 different paper mills containing 22 machines and currently exports its products to neighbouring countries like Botswana, Zimbabwe, Namibia, Mozambique, Zambia and Swaziland.
In North Africa, Egypt has the highest number of paper mills and machines and is currently operating eight tissue mills with 14 machines and more than 38 paper mills with 50 machines.
(BusinessDay)