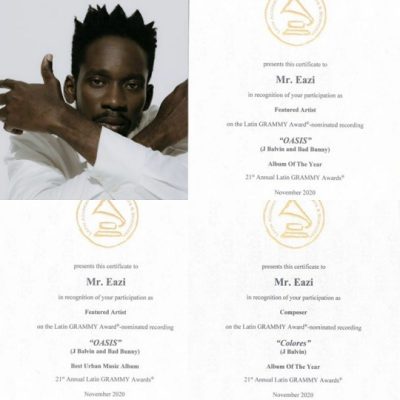 Nigerian singer, songwriter, and entrepreneur, Oluwatosin Ajibade, popularly known as Mr Eazi, has made history by becoming the first Nigerian artiste to win a Latin Grammy Award.
A statement signed by the "Werser" crooner read that he received nominations in four categories at the 21st edition of the annual Latin Grammy awards.
Mr Eazi also received certificates for features on J Balvin and Bad Bunny Albums.
"Eazi was a featured artiste on the song Arcoíris off 'Colores – J Balvin', which won the Best Urban Album category and also on 'Oasis – J Balvin x Bad Bunny' album in the same category.
"Mr Eazi's contributions on both Oasis and Colores were widely acclaimed for its genre-bending sound and innovative approach to Latin music.
"The featured tracks COMO UN BEBÉ and Acoiris has garnered over 198 million streams and 54 million streams respectively on Spotify alone and helped to bring a fresh perspective to the projects," it read.
The certificates officially received by Mr Eazi are; featured artiste on Oasis by JBalvin/ Bad Bunny for Album of the year 2020; featured artiste on Oasis by JBalvin/ Bad Bunny for Best Urban Album 2020; Composer on Colores Album of the year 2020 and Featured artiste on Colores by J Balvin – Best Urban Album (Winner) 2020.
According to the statement, Mr Eazi's success in the Latin music world is a testament to his talent and his commitment to breaking down barriers and creating a truly global sound.
"He is also scheduled to release a new body of work later this year," the statement read.
(NAN)