Murder Suspect Caught After Asking About Reward Money On Police Facebook Post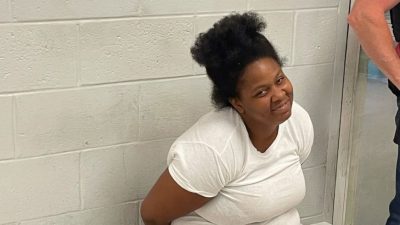 A woman wanted in connection with a March murder in Oklahoma was arrested after commenting on the police department's Facebook post asking about her reward money.
Tulsa Police Department in Oklahoma posted a couple of images of Lorraine Graves, 24, on Facebook as part of their "Weekly Most Wanted" campaign.
"The Tulsa Police Department is looking for information about the whereabouts of Lorraine Graves," the post read.
Lorraine was wanted as an accessory to murder in the homicide of Eric Graves, 30.
"Where's the reward money at," Lorraine commented on the post after she saw that she was on the "Weekly Most Wanted" list.
Lorraine was subsequently arrested the next day at approximately 4:30 p.m. after detectives with the Tulsa Police Department's Fugitive Warrant's unit were able to track her down in a home in north Tulsa. Bond was set at $500,000.
Eric Graves was shot in an apartment on March 13, allegedly by two brothers – 19-year-old Jayden Hopson and 20-year-old Gabriel Hopson.
According to court documents, police found over a dozen bullets in the apartment.
Another victim suffered a gunshot wound to his arm.
Before the shooting, video recorded the Hopson brothers, Eric Graves and an unidentified woman going into the apartment complex where Eric Graves was later gunned down, according to an affidavit obtained by Tulsaworld.com.
Not long after, the video catches the Hopson brothers and the woman leaving and going to a dumpster behind the complex, 'as though they were hiding something,' according to the affidavit.
In a police interview, the wounded victim reportedly told officers that Jayden Hopson was upset that the unidentified woman in the video liked Eric Graves, and overheard the Hopson's plan to ambushing Eric Graves, according Tulsaworld.com.
Tulsa police have not released any other information about what Lorraine is accused of, or her relationship to the victims or the other suspects.
Jayden Hopson and Gabriel Hopson have already been arrested and charged with murder, Tulsa police say.