Museveni's son declares intention to run for presidency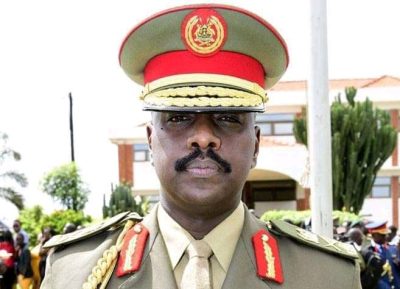 Muhoozi Kainerugaba, the son of Uganda's ageing leader, Yoweri Museveni, has declared his intentions to run for the country's presidency in 2026.
This comes after he deleted a series of tweets he posted late Wednesday.
Kainerugaba, the 48-year-old general, is currently a special presidential advisor for special operations, known for firing off controversial tweets that have earned him reprimands from his father.
He previously served as commander of land forces but was removed from that position after threatening to invade neighbouring Kenya, which he later said was a joke.
One of the deleted tweets read; "You wanted me to say it forever! Okay, in the name of Jesus Christ my God, in the name of all the young people of Uganda and the world and in the name of our great revolution, I will stand for the Presidency in 2026,"
In another tweet, he expressed his impatience at waiting so long to replace his father.
"The Prime Minister of the UK is 42 years old, and the Prime Minister of Finland is 37 years. Some of us are hitting 50 years old. We are tired of waiting forever," he said.
Uganda's opposition has long accused Museveni of seeking to impose a monarchy on Uganda and claimed he was grooming his son to take over from him but Museveni has denied such accusations.
Museveni is yet to make his intentions known concerning the 2026 elections. However, his supporters have encouraged him to recontest again.
As of the time this report was filed, Museveni has ruled for 37 years.
Reuters/NAN