My husband wouldn't be Nigeria's leader if he stayed abroad – Remi Tinubu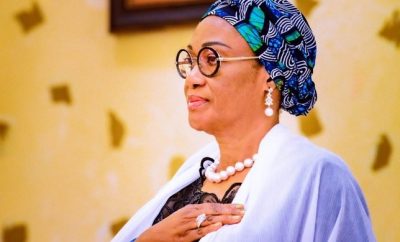 Oluremi Tinubu, the first lady, says President Bola Tinubu would not have become Nigeria's leader if he remained abroad.
She spoke on Monday at the Nigeria Economic Growth and Trade Summit on the sidelines of the 78th session of the United Nations General Assembly (UNGA).
The session was organised at the Nigeria house in New York by the Nigeria Governors' Wives Forum.
Oluremi said "brain drain" from Africa has deprived the continent of the talents it needs to develop itself, adding that Nigerians abroad should key into the "Renewed Hope" agenda of her husband for the betterment of the country.
"In our various communities, we must work towards creating conditions and providing basic needs that allow people to thrive by providing access to qualitative education, an enabling environment for job creation, and the development of local industries will create viable economic opportunities," she said.
"The Renewed Hope initiative is an initiative that we just started, aimed at creating a better life for families.
"Our scope covers agriculture, education, economic empowerment, health and social investment, focusing on women and the youth who are the bedrock of the society.
"With the youth accounting for 70 percent of our population and women representing 49.6 percent of the population, I believe that schemes which focus on empowering this demographic, coupled with an enabling environment, will gradually begin to reverse the negative trend of migration."
The first lady said the wives of governors must work to create equal opportunities for all in the country.
"Policy reforms that encourage skilled individuals to return home after obtaining educational experience abroad, can help reverse the dream," she said.
"I know Mr. President did not tell me that but I just want to reassure you that it's good to come back home.
"If he stayed here and said he liked it here, I don't think he would have ever become your president. So that's a food for thought. God bless you and see you soon."
On her part, Olufolake AbdulRazaq, chair of the governors' wives forum, said the outcome of the summit should stem the tide of migration in Nigeria.
(Daily Trust)