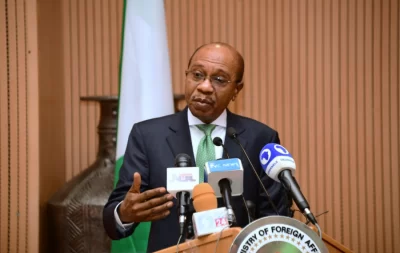 Human rights lawyer and Senior Advocate of Nigeria (SAN), Femi Falana, has accused the Central Bank of Nigeria and its suspended Governor, Godwin Emefiele, of lying to Nigerians over the availability of cash during its implementation of the naira redesign policy.
Falana asked the Federal Government to prosecute Emefiele and the management of CBN for incitement and culpable homicide, having misled Nigerians that sufficient cash was distributed to commercial banks when that was not the case.
This was made known in a statement issued by Falana on Sunday where he stated that the mass anger over the cash crunch provoked customers who burnt bank buildings and destroyed Automated Teller Machines (ATM) in some states.
Falana also wants the CBN to rebuild the bank buildings that were destroyed by angry customers in the aftermath of the cash crunch occasioned by the redesign policy and also for the apex bank to compensate the families of those who were killed due to the incitement of the public.
CBN mopped up N3.5 trillion but only disbursed N402 billion
Falana in the statement said,
''In January 2023, the Central Bank of Nigeria claimed that it had supplied the commercial banks in the country with enough cash in line with its currency design policy. The apex bank purportedly directed security agencies to arrest and prosecute bank officials who were accused of sabotaging the new currency policy. Based on the statement, Nigerians trooped to the banks to collect cash. As the cash was insufficient, customers became angry.
''The mass anger over the cash crunch provoked customers who burnt bank buildings and destroyed Automated Teller Machines in some states. The violence, paralysed social and economic activities, and claimed not less than five lives while many others were injured. But for the Supreme Court, which extended the deadline for the withdrawal of the old Naira notes up until December 31, 2023, the cash crunch would have made life more unbearable for the Nigerian people.
''Convinced that the suspended governor of the Central Bank, Mr. Emefiele had lied and deceived the Nigerian people, we requested information about the actual amount made available to each of the commercial banks. In its belated response to our request, the CBN has now confirmed that it issued redesigned currency notes of N402 billion to the banks.
'Having misled Nigerians to believe that sufficient cash was distributed to commercial banks to replace the sum of N3.5 trillion mopped up from customers, Mr. Godwin Emefiele and the entire management of the CBN ought to be prosecuted for incitement and culpable homicide. In addition, the CBN should rebuild the bank buildings that were destroyed and pay compensation to the families of those who were killed as a result of the incitement of members of the public.''
(Nairametrics)