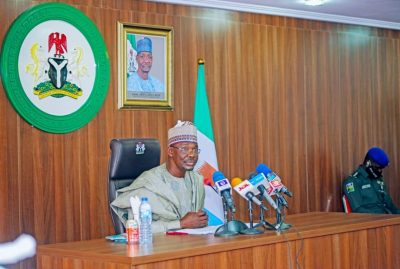 Some residents of Nasarawa State who are supporters of the Peoples Democratic Party (PDP) governorship candidate, David Ombugadu on Monday started a seven-day combined prayer session towards the victory of Ombugadu ahead of the Appeal Court decision on the state governorship election.
Recall that on October 2, 2023, the Governorship Election Petitions Tribunal fired Governor Abdullahi Sule of the All Progressives Congress (APC) and proclaimed the PDP candidate the winner of the March 18 governorship election in the state.
Delivering the judgment via Zoom, the Chairman of the three-member tribunal, Justice Ezekiel Ajayi, had nullified Sule's election and held that the petitioners (Ombugadu and the PDP) duly proved their petition before the tribunal.
The seven-day prayer session, according to the participants, is also to ask God to protect the appeal court judges from any evil influence while they discharge their duties.
Speaking with PUNCH in Lafia, the state capital, a leader of the party, Suleiman Abdullahi, expressed confidence that justice would be served to the people of the state at the appeal court.
He was quoted as saying: "Allah is the creator of the universe. He neither discriminates nor fail in his promises. So, the moves to change the wishes of the people against the overwhelming mandate given to those they want will not stand.
"We genuinely gave our mandate to the PDP candidate, Dr David Ombugadu, to ensure a positive change in Nasarawa State. We will continue to pray to Allah because we know that he will listen to our supplications and do his will in Nasarawa State."
Another loyalist, Rev. Emmanuel Bako, declared that until justice is done in the state, they will keep praying to see the hand of God.
He said, "God Almighty is always ahead of every principality. The will of God shall prevail and shame those people insisting on taking the mandate given to David Ombugadu in Nasarawa State.
"The axe of God is waiting for anyone challenging his power and will in this case. It is said in the Book of Isaiah 58:11 that 'The Lord will guide his people, satisfy their desire and make their bones strong. They shall be like a watered garden, like spring water, whose work does not fail.'"
Bako equally pleaded with the judges hearing the case to provide justice to the people of the state without bias so that the Almighty would be satisfied with their deeds.
Speaking about the prayer session, several participants said they made a commitment to pray in their homes in order to prevent any violence from political factions in the state.
Recall that the appeal court had reserved its judgment in the case filed by Sule, challenging the declaration of Ombugadu as the duly elected governor in the March 18 election in the state by the Governorship Election Petitions Tribunal.