Nigeria will 'fall' if Kanu dies in detention, says IPOB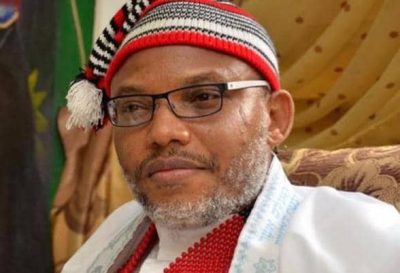 The Indigenous People of Biafra, on Wednesday, threatened that should its detained leader, Nnamdi Kanu, "fall in the hands of Nigeria, then Nigeria and her leaders will fall in the hands of Biafra."
In a statement by its spokesman, Emma Powerful, the pro-Biafran group said it was disappointed in the United Nations, European Union, African Union and ECOWAS for keeping silent while its leader continued to be detained for almost two years by the Federal Government.
The group accused the Supreme Court of bias in the handling of Kanu's case, saying the apex court  was  conspiring with the Federal Government, which "wants our leader to die in detention," given his ill health.
"It is also possible that the DSS has given him (Kanu) a slow-acting poison, which is why his health keeps deteriorating to eventually kill him.
"In what we consider a conspiracy to kill our leader, the Nigeria Supreme Court, the constitutional court refused to entertain an appeal from Kanu's lawyers over his deteriorating health. Instead, the apex court gave a wicked long adjournment of four months in the case of an innocent man that appeal court Justices have discharged and acquitted.
"In all these human right and court abuses, there seems to be a conspiratory silence among international organisations and her affiliate human rights organisations.
"As the health of our leader continues to deteriorate and the Federal Government refuses to obey lawful orders and the world maintains this criminal silence, IPOB will do all within our power to ensure that our leader does not die in detention. Freedom for Kanu is the freedom of the entire black race. Kanu is not a criminal. He is not a terrorist, nor has he been associated with Nigeria treasury looting, which Nigerian politicians are known for.
"We are telling the international community and African Union in particular not to blame IPOB for whatever becomes the aftermath of Nigeria's continuous disobedience to both local and international laws in the case of Nnamdi Kanu now.
"We want the world to understand that IPOB is peaceful but understands our right of self-defence. The gentleness of a tiger should not be taken as cowardice. Those who make peaceful revolution impossible make violent revolution inevitable. Our prayers are that the Nigerian government will do the needful on time because if our leader falls in the hands of Nigeria, then Nigeria and her leaders will fall in the hands of Biafra," IPOB said.
When one of our correspondents asked the Minister of Information and Culture, Lai Mohammed, for comments, he declined to speak on the issue.(punch)