Nigerian govt vows to wade into Victor Osimhen's feud with Napoli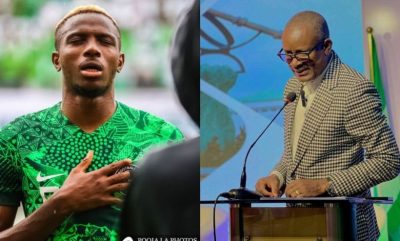 The Nigerian government says it will stand in solidarity with Victor Osimhen in response to his feud with his club, Napoli FC.
In a press release issued today, sports minister Senator John Owan Enoh expressed deep concern and support for Victor Osimhen, the Super Eagles player who has recently faced challenges in Napoli.
Senator Enoh also highlighted the struggles of Tobi Amusan, another Nigerian athlete, and his efforts to address her concerns directly.
He said his office is actively working to reach Osimhen to gain firsthand insight into the issues he is facing and to establish the facts surrounding his situation.
The minister also stated that he is collaborating closely with his colleague in the foreign affairs ministry, Yusuf Maitama Tuggar, and the Nigerian Ambassador to the Republic of Italy, Ambassador Mfawa Abam.
"Together, we are employing Diplomatic avenues with Italy for a more proper approach to looking into the matter as it is.
"Under the present administration of President Bola Ahmed Tinubu, we are committed to ensuring our sportsmen and women are accorded the respect they deserve and are not exposed to any injustice.
"Upon assumption of office, I made it abundantly clear, in words and deeds, that the welfare of our athletes, be they home-based or international-based, would be our topmost priority as we create the environment that enables and ensures their continued success," he said.