Nnamdi Kanu disowns IPOB's sit-at-home orders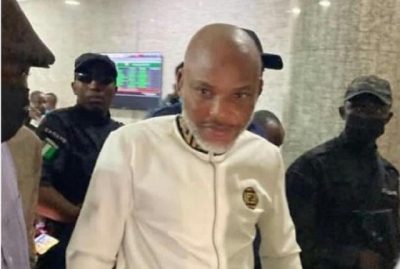 The detained leader of Indigenous Peoples of Biafra, IPOB, Nnamdi Kanu, has said he is not in support of the usual sit-at-home always declared by members of his secessionist group to ground economic and business activities across the Southeast any day he was scheduled to appear in court.
IPOB' lead counsel, Ifeanyi Ejiofor said this in a statement issued on Saturday while dismissing speculations that Kanu, who is presently being held at the custody of Department of State Services, DSS, will appear at Federal High Court Umuahia, Abia State next Tuesday when a fundamental rights enforcement suit filed on his behalf is scheduled to be held.
The court is scheduled to deliver ruling on jurisdictional issues raised on the suit on that day.
But Ejiofor said Kanu will not be coming to the court for the ruling and as such, has not asked anyone to declare sit-at -home for him across as Southeast Nigeria.
"Let the members of the general public be properly informed and appropriately guided, that we have the firm instruction of Onyendu Mazi Nnamdi Kanu, to inform the public, lovers of freedom and UmuChineke, that Onyendu will not be coming to Court on the 4th day of October, 2022.
"As such, Onyendu neither directed, approved nor authorized anyone to declare a sit-at-home on that date."
"Members of the general public are advised to go about their normal business activities on this said date.
"This clarification has become compelling and necessary, in view of the avalanche of misleading information on the social media, and plethora of calls I have received from concerned UmuChineke to this effect"
Ejiofor also said while Kanu has several suits against the Federal Government pending in court, he has never supported the idea of grounding business and social activities across the Southeast anytime he is scheduled to appear in court.
"It is to be noted too, that Onyendu Mazi Nnamdi Kanu has several suits pending against the Federal Government of Nigeria, her agencies and officials, in various courts across the Country.
"For instance, the main Suit challenging the extraordinary rendition of Onyendu Mazi Nnamdi Kanu, filed before the Federal High Court Abuja, against the Federal Republic of Nigeria & Anor, in Suit No: FHC/ABJ/CS/462/2022, and the Suit challenging the constitutionality or otherwise of the 2022 Practice Direction on the trial of terrorism offences, filed against the Chief Judge of the Federal High Court & Anor, in Suit No: FHC/ABJ/CS/550/2022, are equally coming up for Hearing next week, before Hon. Justice Ekwo of Court No. 5, Federal High Court Abuja.
"However, kindly note that Onyendu Mazi Nnamdi Kanu, still NEVER APPROVED nor AUTHORIZED that on the said dates, the members of the general public be directed to sit at home.
"Please let us be properly and adequately guided. This should be a period for serious circumspection and focus, we should not allow those who have no interest of the present fate of Onyendu to derail us.
"Onyendu Mazi Nnamdi KANU is passing through his present ordeal because of his earnest desire to emancipate his people from any form of suffering or oppression, there is therefore, no way he will support anything that will bring more hardship on the same people he is suffering for," the lawyer said.