No Broom, No Umbrella In Heaven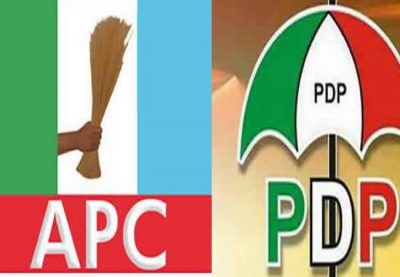 The catchiest remark I could find on the political scene last week emanated from Kano. In apparent preparation to ditch the ruling APC, make up with his old political foe Rabi'u Musa Kwankwaso and join him in the fast-emerging New Nigeria Peoples Party [NNPP], former Kano State Governor and current senator Malam Ibrahim Shekarau, Sardaunan Kano, dropped an anecdotal bombshell. Making a play on the symbols of APC, PDP and NNPP, he said there is no broom in heaven because there is no dust there, there is no umbrella in heaven either because there is no sun there, but that even in heaven, there is a basket of fruits, the NNPP symbol.
No wonder that at the weekend, Kano State Governor Abdullahi Ganduje appeared unannounced at Shekarau's Kano home in a frantic attempt to prevent him from making common cause with Kwankwaso. If it happens, a Shekarau-Kwankwaso rapprochement will be the ultimate proof of the maxim that there are no permanent friends and no permanent enemies in politics, only permanent interests. During his first term as governor [1999-2003], Kwankwaso summarily sacked Shekarau as permanent secretary. An instant wave of sympathy, plus the Buhari whirlwind, soon propelled Shekarau into the Government House. The bitter feud continued in 2007 when Shekarau just managed to defeat Kwankwaso's candidate Ahmed Garba Bichi to get re-elected. In 2011, Kwankwaso returned the favour when he defeated Shekarau's candidate, Sagir Takai, to return to the governorship for a second term.
In 2015, Shekarau left APC, of which he was a founding member, when party leaders led by General Buhari and Asiwaju Tinubu arrived unannounced in Kano and, without consulting him, handed over the party in the state to then Governor Kwankwaso. Four years later, Kwankwaso arrived back in Kano PDP due to a feud with Ganduje, so Shekarau left again and returned to APC, where he was warmly received by Ganduje and rewarded with the Kano Central senatorial seat. Ganduje and Shekarau have been feuding in recent years and held parallel state congresses. Ganduje's camp ultimately triumphed at the Supreme Court, but it could turn out to be a pyrrhic victory if it leads to Shekarau teaming up with Kwankwaso, hence the frantic attempts at the weekend by Ganduje, APC national secretariat and the Buhari Presidency to prevent it.
The only other remark from the political scene that rivalled Shekarau's in dramatic import was the announcement by [former, returned, sit-tight, precariously hanging] Labour Minister Chris Ngige. Two days after President Buhari ordered all political appointees seeking elective office to resign and hours after he and eight other affected ministers attending a send-off event hosted by the president, Ngige leaked a letter saying he was suspending his presidential aspiration and would remain as minister. Where in the world did anybody suspend an aspiration? I have a few aspirations left in this world and I am not going to suspend any of them. Whether I ever attain anyone of them is immaterial; they will remain aspirations.
Oga Ngige, you mean the N100 million you paid to APC to collect expression of interest and nomination forms have gone up in a puff of smoke? You mean you can afford to throw away N100 million just like that, in these hard times? The next time you sit down with ASUU to resume negotiations, how can you convince them that there is no money to pay them when you threw away 100 million bucks within the blink of a presidential eye? And what happened to the send-off that you attended? You mean the president wasted his time and hosted you to a send-off party, only for you to turn back and tell him you are not going anywhere?
Okay, Oga Ngige, at least you tried because you wrote a letter and you leaked it to the press. Attorney General and Minister of Justice Abubakar Malami did not write any letter, or at least, I could not find one in any newspaper or on the social media. When I first saw a story alleging that he abandoned his ambition to contest for Governor of [my home state of] Kebbi, I thought it was not true. He did not confirm it but when he did not deny it either after 24 hours, I began to see the light. In the end he did not submit the N50million nomination forms he collected. Instead, Governor Atiku Bagudu hastily drafted another aspirant, who flew from Birnin Kebbi to Abuja in a private plane just in time to submit his nomination forms before midnight on Saturday.
The other ministers who waded into the presidential race did not say they are staying put, even though many of them were probably waiting until the last minute to submit their resignation letters. Transport Minister Rotimi Amaechi, for example, inaugurated the boards of some parastatals under his ministry during this transition period. He did so on Saturday, normally a non-working day. Probably that suggests that he is leaving, but why not leave that task to the incoming minister? Last-minute actions in office easily attract suspicion from incoming heads. Remember that when President Obasanjo took over in May 1999, he cancelled everything that the former military regime did from January 1, 1999 to the time he took over.
Anyway, Nigerians will only know by Monday evening which ministers resigned and which ones managed to suspend their aspirations. Some people said since the president demanded those resignations, could anyone decide to hold back? It matters not whether you wrote a letter. In bureaucracies, presidents have often "accepted" the resignations of people who did not offer it! I suspect that Secretary to the Government of the Federation Boss Mustapha, who issued the circular demanding the resignations, will clarify in another statement on Monday evening which resignations were accepted and which suspension of aspirations, if any, were accepted.
After all the topsy-turvy political scheming, the frantic media reports and speculations and the werewolf court cases of the last few weeks, the list of confirmed APC aspirants at the close of nominations contained some very important omissions. Former party national chairman and former Edo State Governor Adams Oshiomhole, who collected the forms with much fanfare and bombastic rhetoric, failed to return the completed forms. Oga Adams was on Arise TV twice last week where he pontificated convincingly about workers' welfare and compensation. Does that include throwing away N100 million just to make a political point?
The biggest political speculation in recent weeks was that former President Goodluck Jonathan will cross over to APC, contest on its platform and probably be anointed as its consensus presidential candidate. Politically, that will be like South Africa's ANC nominating National Party's Frederick DeKlerk as its flagbearer, after decades of demonizing the apartheid system which he represented. How could APC possibly roll back the Diezani affair, Dasukigate, the arms purchase bazaar, the "rot" charge or even the Madam Patience Will you keep quiet viral video that it built its "Change" reputation on?
All the media speculation, the widely shared videos of Godwin Emefiele campaign vehicles, the court cases in Delta and Abuja and the N100million contributed by rice farmers to buy forms for the CBN Governor also went up in a puff of smoke when he did not return the forms on Saturday evening. Of those who did, the most surprising name, to me at least, was African Development Bank President Akinwunmi Adesina. This former Agriculture Minister has no ground game going, as far as we can see, even though he is said to be backed by former President Obasanjo and by "many African leaders." African leaders have no vote in Nigerian elections. When US President George Bush Snr was defeated in his re-election fight in 1992, a TIME magazine writer said Bush would have been re-elected if the votes had been cast by the leaders of UK, France, Germany, Canada, Mexico, China, Israel and Saudi Arabia!
And then I saw a statement at the weekend attributed to the President of the Pentecostal Fellowship of Nigeria, Bishop Wale Oke, who said in Osogbo that Christians would not support a political party with a Muslim presidential candidate in 2023. Was he trying to help or to hinder Christian candidates in the upcoming election? In the charged national atmosphere caused by the sad events in Sokoto, to wade into national politics with a remark like this was to invite equally reckless Muslim religious groups take the same stand. It is a case of, for presidential aspirants of the Christian faith, with a friend like Bishop Oke, you hardly need enemies.
•Written By Mahmud Jega