No Plan To Suspend Umrah Despite New COVID-19 Wave – S/Arabia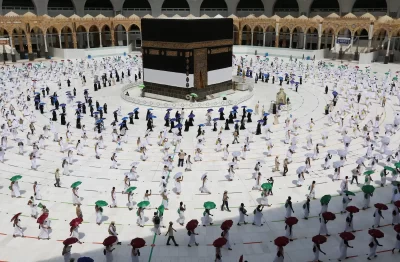 The Saudi Arabia government has dismissed rumours regarding suspension of Umrah due to increase in COVID-19.
A source in the Saudi Ministry of Hajj and Umrah told Haramain Sharifain that it has no plans to suspend Umrah.
It called on visitors and pilgrims to adhere to the precautionary measures decided by the competent authorities.
The General Presidency for the Affairs of the Two Holy Mosques recently reintroduced Physical and Social Distancing in the Two Holy Mosques after a rise in COVID-19 cases was noted.
"We call on every pilgrim and visitor to adhere to physical distancing and wearing of masks at all times as this will ensure your safety and the safety of others," the Imam of the Grand Mosque Sheikh Yasir Al Dossary announced before commencing the afternoon prayers on Thursday.
Saudi Arabia announced two deaths from COVID-19 and 5,499 new infections on Thursday.
Of the new cases, 1,565 were recorded in Riyadh, 877 in Jeddah, 474 in Makkah, 239 in Madinah, 198 in Dammam, 137 in Taif, 110 in Qatif, 103 in Al-Khobar, 102 in Hofuf, and 100 in Khulais. Several other cities recorded less than one hundred new cases each.
The total number of recoveries in the Kingdom increased to 555,035 after 2,978 more patients recovered from the virus.
A total of 8,901 people have succumbed to the virus in the Kingdom so far. Over 53.3 million doses of a coronavirus vaccine have been administered in the Kingdom to date.
The General Presidency for the Affairs of the Grand Mosque and the Prophet's Mosque increased its preparedness to welcome visitors in the coming period through updating electrical, mechanical and electronic elements. (Haramain Sharifain/Arab News).