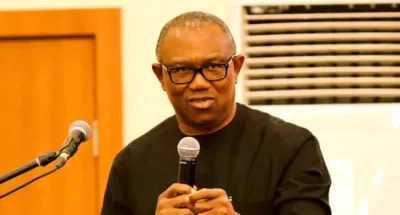 Peter Obi, the presidential flag bearer on the platform of the Labour Party, says he wishes Nigeria well but expresses concern about what will happen next to Nigeria if he loses the February 25 presidential election.
A large turnout of voters at the poll would pave the way for Mr Obi's victory, said a poll conducted by Nigeria's data intelligence provider, Stears, describing the Labour Party standard-bearer as "Nigeria's most popular presidential candidate."
New Nextier, an Africa-focused consulting firm, also predicted that the ex-Anambra governor would win in February.
According to the Labour Party standard-bearer, the presidential poll is an existential election, and he urged everyone to be involved.
"If we get it wrong, nobody can tell what next will happen. In all I am doing, I will always wish Nigeria the best," Mr Obi stressed. "I know you will, too and in doing that, I urge you to be part of the new Nigeria Datti, and I are fighting for."
Mr Obi stated this at a public presentation of the book, 'Peter Obi: Many Voices, One Perspective' in Abuja.
He thanked the organisers of the book launch for believing in him and for choosing to be part of his efforts to see that a new Nigeria is possible and appealed to Nigerians to support him in turning Nigeria around by voting for him in the February 25 presidential election.
"We are committed to it; as I told all the supporters, we need people. We need all of you to support us, especially in these final days to reach the end of this phase. Nigeria has suffered a lot. This is a great country that can be turned around," the former Anambra governor explained.
Mr Obi added, "We cannot succeed without your intervention, so as you launch this book, please be part of what we are doing to change Nigeria."
(NAN)