North has legal basis to retain power in 2023 – Youth Group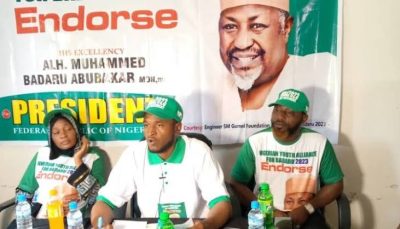 As the call for the zoning of the presidency to the southern part of the country mounts, the Nigerian Youths Alliance has insisted the North has legitimate rights to retain power in 2023.
Several socio-cultural groups, majorly from the south, have said it would be morally unjust for a northerner to replace President Muhammadu Buhari in 2023 after eight years of a northern president with political parties urged to zone their presidential slot to the south over this.
But addressing journalists in Kano on Friday, Musa Muhammad Bauchi, the National leader of the Nigerian Youth Alliance, said the North should not succumb to blackmail to forfeit its legitimate right in a participatory democracy.
According to him, "A cursory look at the occupiers of the highest seat of the land between 1999 to date simply exposed a statistics highly unfavourable to the region (North) despite its numerical strength."
Bauchi, whose group endorsed the Jigawa state governor, Muhammad Badaru Abubakar, to succeed President Buhari, said Badaru's track record in Jigawa was a convincing bet that he is the right man for the job.
Emphasizing the need to pay attention to competence above the geopolitical location of the next president, he said Badaru has proven in all position he has held that he is capable.
The Youths leader said Badaru is making Jigawa the number one producer of Sesame in Nigeria and the top producer of Rice and Hibiscus in Nigeria through cluster farming, stressing that this is a blueprint for diversifying the economy from its over dependence on oil.