Obasanjo: Lagos Monarch Calls For Review Of Obaship To Avoid Denigration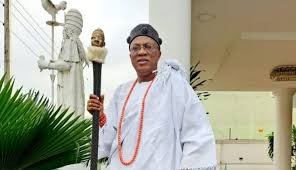 A Lagos monarch, Onisabe of Igbobi-Sabe, His Royal Majesty, Oba Owolabi Adeniyi, Maforunyomi 1, has called for a review and reform of Obaship to avoid further denigration of traditional stools.
Traditional rulers, the monarch suggested, must have an independent forum where they address issues, set agendas and make their positions known to the government.
The monarch stated this while reacting to a viral video clip of former President Olusegun Obasanjo where he was seen 'humiliating' traditional rulers at an event held in Oyo State.
In the video, former President Obasanjo, who spoke in Yoruba, was seen marshaling traditional rulers, an act Oba Adeniyi, considered a disrespect and denigration to royal stools and Yoruba culture and tradition.
Reacting further to Obasanjo's viral video, the monarch avowed that the former president simply and openly sang the song that many had been singing for several decades.
"Since when has royalty been denigrated?" he quizzed.
He continued, "The Whiteman did his bit with Overanmwen Nogbaise of Benin, Olu of Warri, Esugbayi Eleko, Kosoko, Ashantehene etc. The Nigerians as fellow black men did so with Odemo of Ishara, Olowo of Owo, Emirs of Kano Sanusi I/11, Sultan Dasuki, Emir of Gwando, Gen. Jokolo.
"How many stools in Yorubaland where contenders never went to court? Obaship is not even mentioned anywhere in the Constitution since 1979.
"The Whiteman gave us House of Chiefs as he has House of Lords. The Blackman removed House of Chiefs from the bargain. Must Obas have letters of appointment by Government?
"Can't a community that desires an Oba take care of his needs? He who pays the piper dictates the tune. Obas are paid by governments. How many Obas were not imposed on their people, and how can such people fight for them. Obas have become so ubiquitous that we see them on hourly basis. How many Obas have personal clout as Atobatele to call the bluff of government with the support of their people?
"What is the State Order of Protocols? The Obas come last, before Gentlemen of the press, Ladies and gentlemen. The cause is a battle between political office holders and traditional office holders, and the course has been on since colonisation. I'm sure we have not run the full cycle, and the circle is a permanent roundabout.
"It's sad and bad, but we made it so. When Governor Abubakar Rimi gave Emir Bayero a query in 1981, Kano City burned for days. When Governor Bisi Onabanjo queried Awujale in 1982, Ijebuland was quiet like a cemetery.
"It took the General Muhammadu Buhari coup to save Awujale his crown. He was a goner. The first Executive Governor of Lagos State, Alhaji Lateef Kayode Jakande during his tenure also gave Chairmanship to Osolo above Eleko.
"There is need for a review and reform of Obaship to avert recurrence of Iseyin madness and to avoid the spate of further denigration. Let the Obas have a forum, independent of the government, to address the issues where they can determine the agenda, provide the funds, and send a position to the government.
"The Obas and Chiefs Laws should be studied to block the lacunae and unchain the arms of the Royal Fathers. Traditional rulers need to wake up from our slumber. Baba Obasanjo should be checkmated for his nonsensical attitude."