Obi in Zamfara, promises to tackle insecurity, poverty, unemployment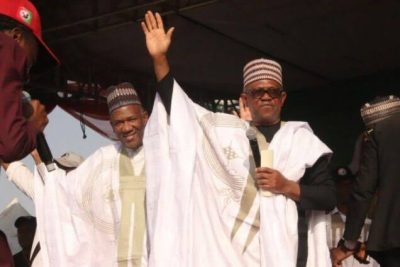 Mr Peter Obi, Presidential candidate of the Labour Party (LP), has promised to tackle insecurity, poverty, hunger and youth unemployment, if elected in the Feb. 25 presidential poll.
Obi, while addressing a large crowd of LP members on Thursday in Gusau at the presidential campaign rally also promised to open up the nation's borders.
"I am appealing to Zamfara electorate to vote for me and all LP candidates at all levels in the coming general elections in order to make our plans for the country a reality.
"We shall put adequate security first in place, we are going to promote peace and stability in our communities.
"Various policies and programmes are on the way to promote the socio-economic well-being of our people with a view to addressing poverty at the grassroots," Obi said.
In his remarks, the Vice-presidential candidate of the party, Alhaji Yusuf Baba-Ahmed urged Zamfara residents to vote for its candidates in the 2023 general elections.
Baba-Ahmed said LP had designed good blueprints for a better Nigeria, adding, "we are ready to bring positive change in Nigeria, we are ready to serve the common man.
"If we are given the opportunity to form a government under the LP, we are going to form a new government.
"I am therefore appealing to you to vote for LP at all levels during the elections. I am giving you an assurance that you will not regret voting for us.
"We are going to initiate policies and programmes to ensure national development," he vowed.
Earlier, the Chairman of the Local Organizing Committee for the rally, Alhaji Yahaya Yari said the rally had proved the presence of LP in Zamfara.
"Our presidential candidate, by God's willing, will win in Zamfara," he added.
(NAN)