OBITUARY: Joseph Wayas, second republic senate president who ruled Nigeria for 16 days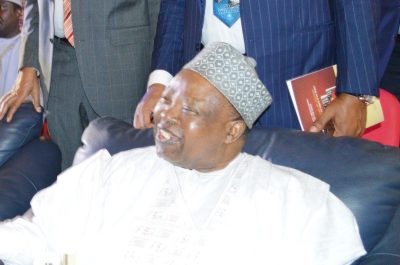 On Thursday, Joseph Wayas, Nigeria's former senate president, died in a London hospital after a protracted illness. At the age of 80, the demise of the statesman did not come as a surprise to many. He had lived a fulfilled life and played a critical role in the nation's political circle.
On May 21, 1941, Wayas was born in Basang, Obudu, Obanliku LGA of Cross River state. He attended the Dennis Memorial Grammar School, Onitsha. Thereafter, he proceeded to the United Kingdom where he studied at the Higher Tottenham Technical College, London; the West Bromwich College of Commerce, Science and Technology, Birmingham and Aston University, Birmingham. He speaks Igbo, Hausa, Yoruba and French fluently.
SECOND REPUBLIC SENATE PRESIDENT
Following his return to the country, Wayas became a commissioner for transport in the old south eastern state from 1972 to 1974. He later became a member of the constituent assembly from 1977 to 1978. After former military president Olusegun Obasanjo ended the military reign, Wayas was elected as a senator under the National Party of Nigeria (NPN) and appointed senate president between 1979 and 1983 after he defeated Franklin Oritsemuyiwa Atake of the Unity Party of Nigeria (UPN). He was re-elected as the senate president in 1983, but the tenure was short-lived.
Wayas is known as the first Nigerian senate president to act as president of Nigeria. In 1983, then President Shehu Shagari and Alex Ekwueme, the vice-president, had travelled outside the country and Wayas piloted the affairs of the nation for sixteen days. The deceased is also the second senate president from the south-south after Dennis Chukude Osadebay. Chris Ngige, minister of power, was said to be his personal physician while he was the president of the senate.
During his reign as senate president, Waya summoned late Tony Momoh, then editor of the Daily Times, over an "uncomplimentary" and "contemptuous" publication, asking him to disclose his source of information. This snowballed to a legal tussle where Momoh had to defend himself that a journalist has the constitutional obligation to hold the government accountable at all times. The court held that an individual had the right to refuse to disclose their source of information.
Prior to the 1983 elections, Wayas led the NPN "Lagos Group" that ousted the then incumbent governor of Cross River state, Clement Isong, and his "Home Front" group. The former senate president went into exile abroad after Muhammadu Buhari toppled the Shagari government on December 31, 1983, but he later returned in 1987 and was held in detention for one year at Kirikiri Prisons.
BACKED EMERGENCE OF JONATHAN AS PRESIDENT
Wayas was also a member of the 1994/1995 National Constitutional Conference and founding member of the All Peoples Party in 1998. The late former senate president later joined the Peoples Democratic Party (PDP) in 2001. He was reported to have joined the All Progressives Congress (APC) in 2015.
In 2010, Wayas backed then Vice President Goodluck Jonathan to assume the position of the acting president in the absence of the ailing former President Umaru Yar'Adua.
ADVOCATE OF ONE NIGERIA
Wayas also believed in "one Nigeria". According to him, the country needs to remain one in order to achieve its long-term goals. But he maintained that there must be economic stability before the challenges bedevilling the nation can be resolved.
"The federation is something that God has given to this country and it should be maintained and kept at all cost. There should be no reason for giving up at some stage," he said in an interview.
"It is not an easy price to pay to keep unity. Keeping Nigeria united is very painful but resourceful. Here, growth is important."
In another interview, he quipped, "If people are asking for creation of states it is a different thing but not independence of Biafra to create another nation; that is not what is expected of any meaningful Nigeria. Like I said it is an issue that was dealt with and pushed aside long ago."
Wayas is also believed to be one of the proponents of zoning leadership positions in the country. According to him, it helps create a balance and give everyone a sense of belonging.
LIVING ON CHARITY
Having served as the number three citizen of the nation, one is expected to enjoy some benefits and special privileges after retirement. But this may not be the case for Wayas who retorted in an interview that he only lived on the "goodwill" of some generous Nigerians.
He said his pensions never came as and when due. He added that such treatment could mean an invitation to corruption for those still in public service.
"Obviously, after serving the nation and you get to my age and you are referred to as retired, you should be able to benefit from your service to your fatherland. But it is not the case, though it is not right to conclude that everything is not done rightly," he said.
"What you expect to hear from me is that, no, it doesn't matter, it is okay, but the truth is that it is not okay, it is very hard. So, I expect or hope that this area should be looked into and all corrections made. To me, if people like us live in a very terrible condition, it is not good for Nigeria; people in other countries will see it as an invitation for corruption for officials while still in service, but any money or wealth you acquire wrongly will disappear wrongly.
"Yes, I am suffering; there was a time a governor asked me a question,' how have you been able to resolve this?' and I gave an honest answer,' by the goodwill of people. That is the honest truth."
The Cross River state government had taken up the welfare of the former senator while he was bedridden in London.
(The Cable)