Ortom Cannot Invite President Buhari To Commission Lies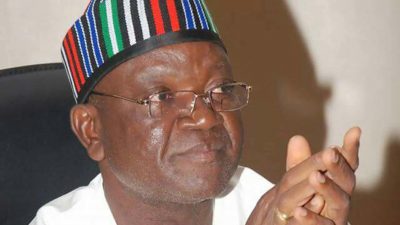 It is easy to tell when Ortom does not measure up to other governors or when he puts his foot in his mouth. It must be very embarrassing to Ortom that his colleagues are showcasing their infrastructural development projects, with some of the governors cordially asking President Buhari to commission some of these projects, and Irtom has nothing to showcase. Ortom has nothing to commission. No schools. No markets. No hospitals. No flyover bridges. Nothing. Scientists and engineers have not yet invented how to commission lies and sadism. In the absence of that, Ortom cannot commission anything.
The renovated Tor Tiv palace is done and dusted. The resurfaced 1.25 kilometer stretch of Ahmadu Bello Way, Gboko, is done to the shame and embarrassment of everyone. Ortom resurfaced this 1.25 kilometer street in five years. That's .25 kilometer resurfacing per annum. What a shame. Maybe the Och'Idoma Palace undergoing some renovation may yet be completed before Ortom's ignoble governorship comes to an end.
To distract attention from the concrete achievements of his colleagues, Ortom is doing what he does best, telling lies like a child. It is shameful that Ortom cannot demonstrate even moral leadership. Nothing is too sacrosanct not yo be soiled in the soot of lies emanating from Ortom. Unfortunately, by lying, particularly lying openly on national television, Ortom calls attention to his many inadequacies. Ortom has to escalate his lies to make the new lies seem credible. Therein is the rub. The more he lies, the less believable he is.
Nasir El-Rufai of Kaduna State can ask Buhari to commission markets and intricate urban renewal projects. Ortom's lies cannot be commissioned. The governor of Ebonyi State, Dave Umahi, is counting on the biggest shopping mall in West Africa, the sixteen flyover bridges, the many roads and hospitals to propel him to the presidency of Nigeria. Ortom can only hope that he would ride on cascading lies to a senatorial seat. Ortom will become a senator not through his achievements, but through lies. Gov. Zulum of Borno State is personally supervising cash disbursements to IDPs. Ortom can only lament that Benue's IDPs are stealing foodstuffs from his farms. That's the new low in the moral depravity of a Benue governor.
Lying does not help Ortom anymore. Even the tactic of having his idle special assistants go after Ortom's critics is no longer working. When any of them posts lies on Facebook, they are the only ones who like and comment on such postings. They tag one another in an incestuous echo chamber. No one pays attention to Ortom and his pack of lies and hordes of liars anymore, although his lie that he has been paying the new minimum wage was a new low in mendacity. Ortom's assistants are on a prowl against any criticism of Ortom's shameless outing on national television yesterday.
Even for many of us who have come to expect Ortom to lie, yesterday's lie shook us to the core. Now, Ortom's horde of liars are going after us. They are exhuming three year-old lies about us not having a "thatched hut" in our ancestral villages as if there was any correlation between Ortom's disgraceful incompetence and people's private dwellings. Will Ortom pay retirees the thirty-six month backlog of benefits if I build a thatched hut in Agila? They are barking against the wrong tree. I will continue to excoriate Ortom's sadistic governorship.
I have a moral obligation to denounce Ortom and silly accusations that I have no "thatched hut" in Agila or that I am supposedly a fake professor will not cut it. I am not the issue. I am not the problem. The problem is that Ortom cannot invite President Buhari to commission lies.
*Written By Pita Agbese