Osimhen asked me about Premier League – Iwobi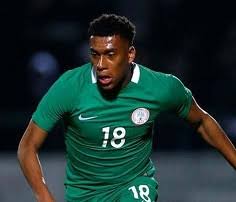 Super Eagles midfielder Alex Iwobi has revealed that his national teammate Victor Osimhen has asked him about life in the English Premier League. Osimhen has become the most sought-after player in Europe fol- lowing his stellar showing for the Italian side Napoli.
He has scored 25 goals in all competition as the Naples side sit atop Serie A and reached the last eight of the UEFA Champions League.
Osimhen will not come cheap, as he is said to have a nine-figure price tag around his neck, but his head is being turned slightly by admiring glances being shot in his direction from England. Everton midfielder Iwobi has told The Beautiful Game Podcast when asked if his Nigeria inter- national team-mate is intrigued by life in the Premier League: "He has asked. All of them ask.
I am sure he probably has the ambition to play in the Premier League." Osimhen has admitted that the opportunity to turn out in the English top-flight at some stage in the future would be a dream come true for him.
He told The Athletic: "I'm working so hard to make sure that I achieve my dream of playing in the Premier League some day but, like I said, it's a process and I just want to keep on this momentum and continue to do well."