PDP surviving without Obasanjo, Wike cannot play God – Atiku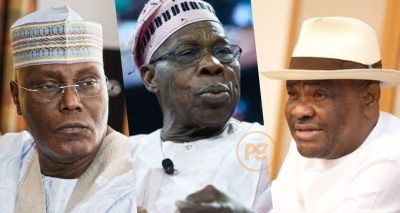 Former vice president Atiku Abubakar says the opposition Peoples Democratic Party (PDP) will survive without Rivers State governor Nyesom Wike.
Speaking through his spokesman, Daniel Bwala, the PDP 2023 presidential candidate argued that the party has survived the absence of more important founding members like former President Olusegun Obasanjo.
"Iyorcha Ayu and Atiku were founding members. They left and had to come back. Let me tell you why you can't play God," Mr Bwala said in a Channels TV interview on Friday night.
"Atiku left, the party survived. Ayu left, the party survived. If Wike leaves the party will survive. Obasanjo is not in PDP, it survived. You need to understand and know the limit of your operation and influence," Mr Bwala added.
Mr Bwala's statement comes in the wake of Mr Wike's outburst on Friday, berating Mr Abubakar and insisting that the party chairman Iyorcha Ayu must resign.
Internal crisis has rocked the PDP since Mr Wike lost the party's 2022 presidential primary to Mr Abubakar in May.
The crisis took a bad turn after Mr Abubakar dumped Mr Wike to pick Delta governor Ifeanyi Okowa as his running mate, against the recommendation of a party committee that had put forward the Rivers governor.
(peoples Gazette)