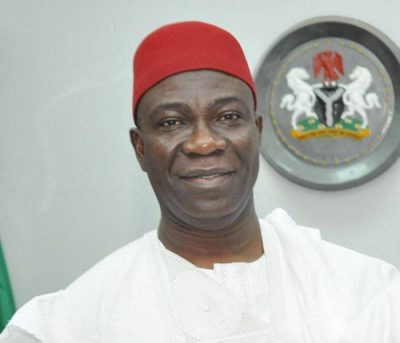 ….Those who worked against Atiku are now calling the shots against those who supported him


…This is a civil war that could cost PDP not only the 2019 election but also consume it
…South east PDP governors not against Obi but worried about emerging 2023 signals

Trouble is looming large in the People Democratic Party (PDP) as some political forces within the party are mounting pressure on the  Deputy Senate President, Ike Ekweremadu, to quite the party over perceived mistreatment of the Senator.

These, competent sources say this was not unconnected with his "total sidelining in the affairs of the party immediately after the Port Harcourt Convention where Alhaji Atiku Abubakar was elected the presidential candidate of the PDP in the 2019 election.

Competent source and a ranking member of the National Assembly said: "The issue is not even the mishandling of the processes leading to the emergence of former Governor of Anambra State, Peter Obi, as the running mate to PDP's presidential candidate, in which the South East leaders were totally sidelined. The issue is a deliberate attempt to sideline the Senator in the emerging scheme of things within the party.

"There is a clear grand conspiracy against Senator Ekweremadu and it is just unfair. I am not talking about him not been nominated as vice presidential candidate. In any case, he has shown more interest in restructuring and other key South East interests than in vice presidential ticket. In the discussions leading up to our consideration of the aspirants and eventual decision to give a block vote to Atiku, he always said that the South East should go for the substance than for sheer title.

"To show that the sidelining of Ekweremadu was deliberate, none of the key actors have even reached out to him. The announcement was made on Friday, but Obi only started moving round on Sunday, in the evening. And I did not see him move with the National Chairman or National Secretary. It would have been ideal for Obi, Prince Uche Secondus and some other senior party leaders to have flown into Enugu that Saturday to meet with South East leaders.

"Assuming Atku heard that there was a subterranean effort to substitute him, wouldn't he have since rushed home or even canceled his trip out of Nigeria that Saturday to address the matter? And was it too much for him or Uche Secondus to pick a phone to call Ekweremadu, especially given the role he has played in calming the angry South East party leaders?"

Ekweremadu snubbed in the composition of PCC

It has also been alleged that Ekweremadu knew nothing about the composition of Presidential Campaign Council (PCC) of the party.

Our source said it was part of the grand schemes by some powerful interests to humiliate and sink Ekweremadu politically.

Recall that the PDP had earlier this week announced the PCC with Senate President, Dr. Bukola Saraki as the Director-General; Governor of Sokoto State, Aminu Tambuwal, as North West Coordinator; Governor of Gombe State, Ibrahim Dankwambo as North-East Coordinator; and Governor of Benue State, Samuel Ortom as North-Central Coordinator

Former Governor of Ekiti state, Ayo Fayose and Governor of Ebonyi State, David Umahi were named as the Coordinators for South-west and South East, respectively, while the Governor of Akwa Ibom State, Emmanuel Udom, was appointed Chairman of Fund Raising Committee, and a former presidential aspirant, Alhaji Taminu Turaki, heads the Legal Committee.

Ekweremadu's name was however conspicuously missing.

"It is not only about whether his name is there or not. I can also authoritatively inform you that Ekweremadu heard the news of the membership of the PCC in the media like other non-PDP members.

"I can confirm to you that nobody mentioned anything about the PCC to him, let alone include him or ask him to nominate anybody or seek his suggestions even out of respect. I confronted a senior party leader just yesterday, who told me that the PCC is a large body and more names would be announced. And I told him that he was talking nonsense.

"So, it is not just an accident and neither did it come to some of us here at the National Assembly as a surprise. Our party has been hijacked and there is a grand design, a gargantuan conspiracy to bury Ekweremadu politically and it started unfolding  right from immediately after the Port Harcourt convention because a certain governor from the South South who worked for Governor Tambuwal wasn't happy the way South East voted and he is holding the South East party leaders responsible for greatly contributing to Atiku's victory.

"Don't forget that in announcing the PCC, Our National Chairman, Prince Uche Secondus said it was 'after 'due consultation with party stakeholders under his leadership'.

"When they announced the VP candidate, they said they consulted fare and wide, yet no party leader from Ekweremadu's South East, including himself as both a senior national party leader from the zone was consulted. In order words, Ekweremadu is no longer a party stakeholder?

"How could you discuss or constitute a presidential campaign council and the same man, who stood like the Rock of Gibraltar for the party when many abandoned it and it seemed the world had come to an end for it only read it in the papers like others?

"Even though we have always known Ekweremadu as a man of principle, he has never changed party since 1998, we were surprised he could defy  the persecutions and political pressures piled on him to stay firm to defend the PDP. He showed leadership. He rallied us to shepherded the PDP during the trying period.

Ekweremadu was slammed with phantom charge of forgery of Senate Standing Rule. Police invaded his guest house sometime in 2017 or so. In fact, before that, there was an assassination attempt on him in 2015 or thereabout. The EFCC has been harassing him. The same with all sorts of Federal Government Panels. Imagine, it got to such ridiculous extent that the Special Presidential Investigation Panel even asked him to declare his assets to it even when he had fulfilled the constitutional provision for public officers to declare their assets with the Code of Conduct Bureau every four years. He was asked to start filling new asset declaration forms contrary to the constitution. EFCC and police have laid siege to his house. Hoodlums invaded senate chamber and ran away with the mace while he was presiding sometime this year. Just too many harassments, intimidations, and media trial suffered because of this same party.

"All these happened to force him to dump PDP because they knew without that seat occupied by Ekweremadu and him utilizing it well to hold the opposition together, PDP would have been dealt a fatal blow.

"So, we feel very embittered that it is those, who abandoned the party and who worked against Alhaji Atiku Abubakar's emergence as the party's presidential candidate that are now dictating the tunes.    Impunity and injustice cost the PDP the 2015 elections and I can tell you that it is clear now that the same impunity and injustice followed the PDP home from very successful Port Harcourt convention.

"And they are doing all these because Ekweremadu is not the radical type. But, as far as I am concerned, there is a limit to every rubbish. With these untrustworthy people, Ekweremadu needs no political enemies and he should be man enough to weigh his political options and his future with the PDP.

"But, mark my words, this gang-up against a man, who has sacrificed so much for our party will be the last straw that will break the caramel's back. It will result in intra-party 'civil war' that could  cost the PDP not only the 2019 election, but also consume it finally.

"We see no reason he should rethink his political future with the PDP. This is the least he has to do now as a pragmatic politician because he has been told in unmistakable  terms by fifth columnists working against Atiku's presidential victory that he does not matter and has no future with the PDP even if Atiku wins.

"But, for some of us, the truth is that if a snake comes into your home, you have two choices: fight off the snake or run away. For me, I will not only fight the snake, but I will also, in the instance of the humiliation and hanky panky treatment the PDP is meting out to our leader, burn down the entire house so that everybody can begin to shop for a new home", the source added.

Sout East PDP governors, leaders not against Obi

Meanwhile, contrary to news making the rounds, it has emerged that the South East PDP leaders are not against Obi's nomination, but were concerned about the process and the future of the South East.

"We saw news flying up and down, saying that our presidential candidate, Alhaji Atiku Abubakar has picked a running mate from the zone. We were shocked because we were not consulted. While we were meeting, Atiku sent message that he travelled out of the country for a short period. He promised to come down and meet with South East leaders", Governor of Ebonyi State and Chairman of South East Governors Forum, Dave Umahi told newsmen after the Enugu meeting was called off.

Also speaking with the press, the National Vice Chairman of the PDP (South East), Deacon Austin Umahi, said: "Our leaders in the South East, the governors, the National Assembly Members came together to appreciate the Party for the recognition of South East and keeping to their promise to give the Vice Presidential slot to South East.  (Vanguard)