People thinking 'juju' behind Mohbad's death primitive, says Speed Darlington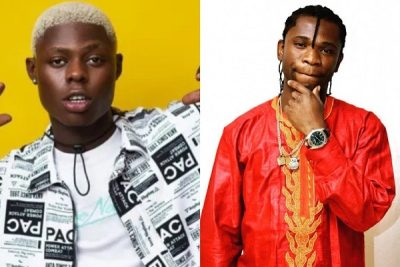 Controversial rapper, Speed Darlington, has taken issue with those speculating that supernatural forces, specifically 'juju' or voodoo, played a role in Mohbad's untimely passing.
He criticized the speculations as archaic and accused those propagating them of lacking education.
Speed Darlington openly pondered the circumstances surrounding the singer's death, questioning why someone would want to extinguish the young KPK crooner's life through spiritual means.
He also raised doubts about the motive behind such actions, considering the singer's relatively early age and his earnings.
Speaking during an Instagram Live session, the musician born Darlington Okoye stated: "They say one musician is dead, Mohbad. Very young boy. I'm way older than him. I didn't know about the incident. It was one of my followers that informed me about it via my inbox. Then I put two and two together seeing I've heard the name before.
"But wait a minute, what killed this young man? I've been trying to recall his most popular song, but it keeps eluding me. But I'm sure I'll remember it. I'll confirm from YouTube
"What killed this young boy? Some people with their primitive mindset say it was voodoo. They say it was juju, that they 'jazzed' him. They said he went to do a show at Ikorodu, where he was struck with juju.
"Please, how much did the boy earn for anyone to want to use juju on him? I thought Juju was jealousy-based. Like, 'I'm not pleased with how you're enjoying your life. It's paining me in my heart so, I want to quench you'. I don't know o! But how much was he making?
"However, anything is possible. I'm at the stage of my life where I don't easily dismiss what I hear people say because anything is possible. I don't believe its voodoo. This life indeed has no meaning. This young man is dead now. Tomorrow, latest Sunday; everybody will move on.
"This life ehn! My brother, ensure you laugh. If it isn't forthcoming, force it. This life has no meaning and that's the meaning of life, understanding that life itself has no meaning. Fact!
"Personally, I think it was sickness or some form of medical condition. As for me, anybody that's talking about juju is simply displaying primitiveness. The person didn't go to school.
"Yes, juju exists. This is Africa. I'm not going to pretend that I'm in America or Canada. Juju is real. Yes, after all, it was our religion before Christianity and Islam was introduced to us. It was our original religion before we met white people.
"So, I believe that our original thing still works but I'm not sure it wasn't spiritual intervention that caught that boy.
"I have no evidence but I feel like he was battling things. People could be battling things unknown to the public that they can't post."