Pompeo describes diplomatic relations with Saudi Arabia as 'middle finger' to U.S. media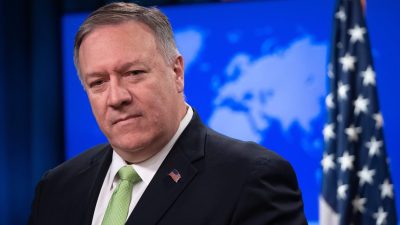 In his new book, "Never Give an Inch," former U.S. Secretary of State Mike Pompeo sided with Saudi Arabia and boasted that his relations with the country should be regarded as a "middle finger" to American media.
"What really made the media madder than a vegan in a slaughterhouse was our relationship with Saudi Arabia," Mr Pompeo wrote, reminiscing his time as a diplomat under then president Donald Trump.
"In some ways, I think the president was envious that I was the one who gave the middle finger to The Washington Post, The New York Times and other bed-wetters who didn't have a grip on reality."
Mr Pompeo in the book released Tuesday revealed he had flown to Saudi Arabia days after a journalist, Jamal Khashoggi, had been murdered by the kingdom.
Mr Khashoggi until his death in 2018, was a fierce critic of the kingdom's de facto leader, Crown Prince Mohammed bin Salman.
Documents declassified by incumbent president Joe Biden revealed the Crown Prince ordered the murder of the journalist. Mr Khashoggi had been lured to the consulate of the  kingdom in Istanbul where he was strangled and butchered to death.
Mr Pompeo who described the "grotesque butchery" as horrific and despicable said he was not surprised that the kingdom would go to such length to take down a critic.
"But it wasn't surprising — not to me, anyway. I'd seen enough of the Middle East to know that this kind of ruthlessness was all too routine in that part of the world," he said.
Former CIA director Mr Pompeo argued that Mr Khashoggi was indeed a "journalist." He made fun of the media in the book for portraying him as a "Saudi Arabian Bob Woodward who was martyred for bravely criticising the Saudi royal family."
The former U.S. Secretary of State believes in the leadership of the Crown Prince despite being responsible for Mr Khashoggi's murder. Mr Pompeo said Mr Salman "will prove to be one of the most important leaders of his time, a truly historic figure on the world stage."