Portable Shares 'Quality Time' With Late Alaafin Of Oyo's Wife After Confirming Relationship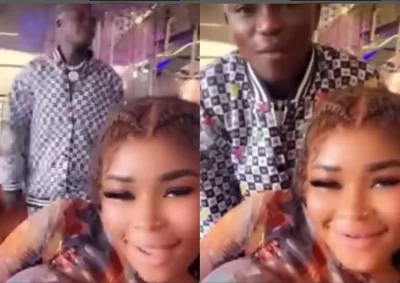 Controversial Nigerian street singer Habeeb Okikiola, popularly known as Portable, has taken to social media to share special moments with the late Alaafin of Oyo's wife, Queen Dami after confirming their romantic relationship.
Recall that the 29-year-old singer, in a recent interview on the 'Honest Bunch Podcast' hosted by Nedu Wazobia FM, confirmed that he was romantically involved with the late monarch's wife.
The singer's confirmation came shortly after Queen Dami, who was one of the runaway wives of the late Alaafin of Oyo; Lamidi Adeyemi III, sought love online during a live dating programme hosted by Nollywood actor, Lege Miami.
Following the death of her husband, the queen in her quest for love, found love in the arms of Portable, after exchanging endearing words, referring to each other as 'king' and 'queen'.
A recent video captured moment the singer is seen entertaining the late Alaafin of Oyo's wife, Queen Dami, who in turn, blushes and cheers at his cajoling dances and gesture.
The video was shared by the queen on her social media page a month after the singer confirmed rumors that they are now together.