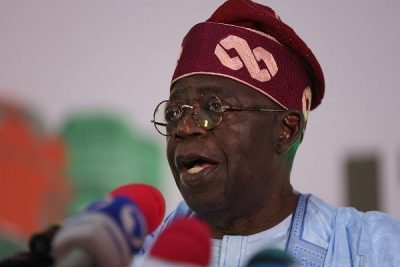 President Bola Tinubu has kicked against the presentation of information that was extracted from the Bimodal Voter Accreditation System, BVAS, machines used during the February 25 presidential election.
The President made the demands through his team of lawyers led by Wole Olanipekun, SAN, as they challenged the admissibility of certified copies of printouts from the BVAS, which were tendered before the Presidential Election Petition Court sitting by the Peoples Democratic Party candidate, Atiku Abubakar.
Atiku, who is challenging the outcome of the presidential election, maintained that the evidence he demanded was that of 33 states excluding Kaduna, Kano, Katsina and Lagos.
Atiku's documents were presented by a member of his legal team, Professor Eyitayo Jegede, SAN.
But Independent National Electoral Commission, INEC, said it opposed the admissibility of the downloaded election results, except for the printout of data from BVAS it deployed to three states- Kogi, Sokoto and Rivers
Similarly, the All Progressives Congress, APC, which was the fourth respondent in the case, supported President Tinubu.
Meanwhile, Jegede informed the court that the documents he tendered were duly cleared by INEC after all the necessary fees were paid.
Despite the objections, the Justice Haruna Tsammani-led five-member panel admitted the documents from the BVAS into evidence and marked them as Exhibits PT 1 to PT 33.
Other documents that Atiku presented before the court were results of the presidential election from Abia, Bayelsa, Kaduna and Ogun states.
The Justice Tsammani-led panel admitted the results of the presidential election from Abia state and marked them as Exhibits PJ, PJ1- PJ 16 as well as their certification receipt.